COORS FIELD PARKING
Your space is waiting.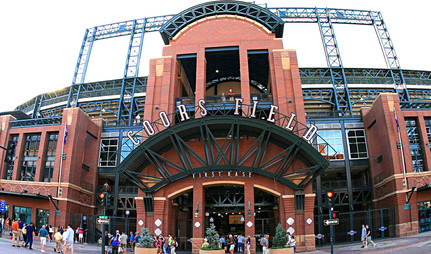 2001 Blake St, Denver, CO, 80205
Book now and spend more time on the fun.
BROWSE ALL EVENTS
About Coors Field
Spacious, wild and beautiful: Those words describe both the American West, and Coors Field, home of the Colorado Rockies. Coors Field parking is the gateway to a unique ballpark experience, giving locals and out-of-towners a flavor of the region.
The savviest fans in Denver will take right-field seats, as those provide the sightlines to the Rocky Mountains beyond the left field bleachers. The snow-capped landscape is visible during the day, especially when the sun's out and the sky's blue. Then as twilight hits, the Rockies transform into a jagged silhouette just before the sun tucks itself behind the mountain range. For night games, fans want to make sure they secure Rockies parking before first pitch to get inside the stadium inside to watch the natural show.
It's doesn't beat a sunset over the Rockies, but the interior park offers up some western motifs, like the park beyond the outfield. Beyond the center-field wall is a waterfall and some pine trees, snapshotting the Rocky Mountains' environment. Up over the mini-forest is the "Rockpile," the center-field bleachers where the die-hards settle for games. The center-field wall sits a whopping 415 behind home plate, an homage to the dimensions at the old Mile High Stadium and a feature to encapsulate that range out west.
An unintentional effect of a Rocky Mountain setting is the havoc the low air density plays on the baseballs. The lack of humidity allows balls to fly off bats and travel through the air unfettered. It also doesn't impede balls thrown by pitchers as well, causing less movement on breaking balls. This equates to a pitcher's nightmare, and led to the creation of a giant humidor to restore humidity to baseballs to curb the inflated offensive numbers put up in the ballpark in the 90's.
The fastest way get into this one-of-a-kind ballpark is to book Coors Field parking online with ParkWhiz. Rockies parking can be nabbed in advance to ensure a space is saved for your arrival and your only concern is catching that sunset.
Denver parking at other popular destinations:
Parking at other MLB stadiums:
DISCOVER
AMAZING
SPACES
Find parking anywhere, for now or for later
Compare prices & pick the place that's best for you
Find parking anywhere, for now or for later
Compare prices & pick the place that's best for you
RESERVE
PREPAY
& SAVE
Book a space in just a few easy clicks
Save up to 50% off standard rates
Book a space in just a few easy clicks
Save up to 50% off standard rates
DRIVE
ARRIVE
& PARK
Enter easily with your mobile parking pass
Your space is waiting – pull in and go do your thing
Enter easily with your mobile parking pass
Your space is waiting – pull in and go do your thing
GET TO KNOW US
BETTER FOR BUSINESS
LET US HELP YOU
WE'RE SOCIAL
USA