COORS FIELD PARKING
Your space is waiting.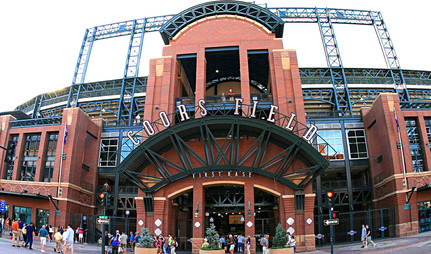 2001 Blake St, Denver, CO, 80205
Book now and spend more time on the fun.
BROWSE ALL EVENTS
About Coors Field
Spacious, wild and beautiful: Those words describe both the American West, and Coors Field, home of the Colorado Rockies. Coors Field parking is the gateway to a unique ballpark experience, giving locals and out-of-towners a flavor of the region.
The savviest fans in Denver will take right-field seats, as those provide the sightlines to the Rocky Mountains beyond the left field bleachers. The snow-capped landscape is visible during the day, especially when the sun's out and the sky's blue. Then as twilight hits, the Rockies transform into a jagged silhouette just before the sun tucks itself behind the mountain range. For night games, fans want to make sure they secure Rockies parking before first pitch to get inside the stadium inside to watch the natural show.
It's doesn't beat a sunset over the Rockies, but the interior park offers up some western motifs, like the park beyond the outfield. Beyond the center-field wall is a waterfall and some pine trees, snapshotting the Rocky Mountains' environment. Up over the mini-forest is the "Rockpile," the center-field bleachers where the die-hards settle for games. The center-field wall sits a whopping 415 behind home plate, an homage to the dimensions at the old Mile High Stadium and a feature to encapsulate that range out west.
An unintentional effect of a Rocky Mountain setting is the havoc the low air density plays on the baseballs. The lack of humidity allows balls to fly off bats and travel through the air unfettered. It also doesn't impede balls thrown by pitchers as well, causing less movement on breaking balls. This equates to a pitcher's nightmare, and led to the creation of a giant humidor to restore humidity to baseballs to curb the inflated offensive numbers put up in the ballpark in the 90's.
The fastest way get into this one-of-a-kind ballpark is to book Coors Field parking online with ParkWhiz. Rockies parking can be nabbed in advance to ensure a space is saved for your arrival and your only concern is catching that sunset.
Denver parking at other popular destinations:
Parking at other MLB stadiums: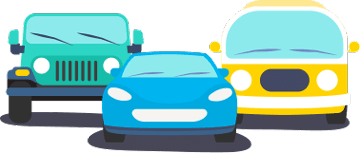 DISCOVER
AMAZING
SPACES
Find parking anywhere, for now or for later
Compare prices & pick the place that's best for you
Find parking anywhere, for now or for later
Compare prices & pick the place that's best for you
RESERVE
PREPAY
& SAVE
Book a space in just a few easy clicks
Save up to 50% off standard rates
Book a space in just a few easy clicks
Save up to 50% off standard rates
DRIVE
ARRIVE
& PARK
Enter easily with your mobile parking pass
Your space is waiting – pull in and go do your thing
Enter easily with your mobile parking pass
Your space is waiting – pull in and go do your thing
GET TO KNOW US
BETTER FOR BUSINESS
LET US HELP YOU
WE'RE SOCIAL
USA
Need a spot? ParkWhiz has you covered.
Select a city or airport below.
ParkWhiz offers the ability to reserve the largest nationwide inventory of parking at the lowest prices. Whether it's online, in-app, or in-dash, an amazing parking space is never far away. Our easy-to-use platform and ultra-friendly team of parking professionals make getting where you need to go simpler than it's ever been.
ParkWhiz is the leading transactional platform that enables drivers, fleets and connected vehicles to find and book parking. The company offers the largest inventory of parking spaces for drivers to reserve before reaching their destinations, saving both time and money. Working with all major parking operators, it delivers transactional parking as a value-added service to major brands in sports and entertainment, travel, automotive and navigation. ParkWhiz has built partnerships with brands including Ford, Ticketmaster, Groupon, Madison Square Garden and others. The company operates two consumer-facing brands of its own—ParkWhiz and BestParking—available for Apple, Android and Amazon Alexa. ParkWhiz has parked over seven million vehicles and is operational in over 190 cities in North America and expanding rapidly.
FREQUENTLY ASKED QUESTIONS
What's the refund policy?
All parking passes are eligible for a no-questions-asked full refund prior to the start time on the pass.
To cancel, simply log in to your account on web or in the app, view your passes, and click "cancel".
You can also do this using the "cancel " link at the bottom of the pass itself.
Alternatively, just click the "cancel" link from your confirmation email.
Please keep in mind, once the arrival time has passed, all bookings are non-refundable.
Parking purchased on a partner website or as part of a parking package are non-refundable.
---
How do I apply a discount code?
If you received a promotional discount code from ParkWhiz, you'll want to be logged into your ParkWhiz account before applying the code on the checkout page. Make sure you're using the same email address to log in as the one where you received that coupon!
Note that all discount codes will come from ParkWhiz directly. If you received your code from a third-party website, there's a significant chance it will not work. Unless specifically noted, discount codes cannot be used for monthly parking.
If you were issued ParkWhiz credit, the credit will automatically deduct from your total on the checkout page before your next purchase. Be sure you're logged in under the account to which the credit was issued before confirming that purchase, to see the credit applied.
---
How do I present my my pass on-site?
Easy peasy! As the vast majority of locations in our network accept a mobile pass, this means you can use your phone or other smart device to show proof of your prepaid purchase once you arrive at the parking facility. To be sure, verify the instructions on your pass to confirm the validation method. That section is titled "When You Arrive" in-app or "How To Park" if viewing on a desktop or mobile web.
For a seamless, no-printer-required experience, check out the ParkWhiz app! Thousands of space at your fingertips. Rest assured that if searching and booking on a mobile device, we won't show you any locations that require a printed pass! At least not until cars come equipped with printers!
If your location does not accept mobile passes, you'll need to print the pass before leaving the house.
---
Do I have in-and-out privileges?
In most instances, no. The majority of locations on ParkWhiz, including all those in New York City, do not allow re-entry.
If any specific parking facility does allow for you to come & go during the reserved timeframe, you'll see a "Reentry Allowed" amenity icon listed; this is shown in the details section both pre-purchase and post-purchase.
If you don't see anything on the listing page pertaining to specifically to reentry privileges, it's best to assume that you will not be allowed to come and go throughout the duration of your parking pass.
---
Are there any additional fees on site?
Generally, no. What you see online is what you pay as long as you park within the timeframe on your parking pass. Any time parked outside the arrival or departure listed on your pass will likely incur an additional onsite fee, as determined by the parking provider. ParkWhiz purchases include tax.
The only exception to the above pertains to oversize vehicle fees, which may apply to any vehicle larger than a sedan. Fee amounts vary between individual Parking Operators, and will be assessed on-site if you do not prepay for an oversize vehicle through our platform.
Although pricing structures are determined individually by the facility owner/operator, ParkWhiz prices tend to be cheaper than drive-up in most cases! If you ever feel the rate on ParkWhiz was more expensive than drive-up, take a photo of the price on-site and send us an email! We love deals as much as you do and are eager to ensure you're getting a fair rate.
---