PNC PARK PARKING
Your space is waiting.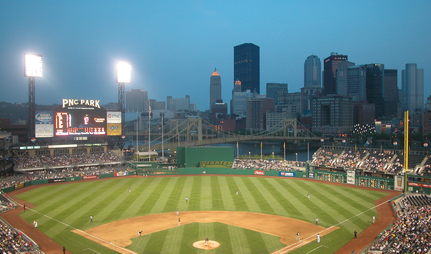 115 Federal St, Pittsburgh, PA, 15212
Book now and spend more time on the fun.
BROWSE ALL EVENTS
About PNC Park
A good city deserves a good baseball team, and a good baseball team deserves a good ballpark. The Pittsburgh Pirates were once at the top of the heap in Major League Baseball, and though they regressed in past decades, it is very possible for them to come back on top, especially at their new home at PNC Park. With such potential, it may be hard to find Pittsburgh Pirates parking spaces unless they are booked ahead of time.
PNC Park opened in March 2001, replacing Three Rivers Stadium. The new arena was funded in part with public money, despite objections of some citizens. The naming rights were sold to PNC Bank in 1998, despite fan lobbying for the new venue to be named after the late, great Roberto Clemente. The ballpark was built in the retro-classic design, harkening back to early golden-age stadiums like Fenway Park and Wrigley Field. The structure was built up and completed in about two years, and the Pirates moved into the new venue soon after. The vast majority of reviews of the stadium are positive, rated highly by critics and fans alike. Finding PNC Park parking may be difficult due to the rebounding team, so it is advisable to book Pittsburgh Pirates parking spaces in advance with ParkWhiz.
The Pirates first appeared in a recognizable form in the mid-to-late 1880s, finally obtaining their current moniker in 1912. The team won their first World Series in 1909, defeating Detroit. The Pirates won their second World Series in 1925, defeating the Washington Senators. After qualifying for the 1927 World Series, the team fell on hard times until winning the 1960 World Series, despite all odds against them. After winning the World Series in 1971 and 1979, the team hit a nadir, with Pittsburgh embattled since 1992. Despite this, the team has rebuilt itself as of late. For the 2013 Season, the team netted star players such as pitchers Mark Melancon and Francisco Liriano, pitcher Russell Martin and more. New players seemed to do the trick, as the Pirates won over 81 games, making it the first non-losing season in 21 years. This wasn't all, as the team actually got to the post-season, winning the NL Wild Card Game. The Pirates battled valiantly for the National League Division Series against the Cardinals, but won only two of the five games. As the team recovers, finding Pittsburgh Pirates parking spaces might get more difficult, so it is best to book PNC Park parking in advance with ParkWhiz.
ParkWhiz makes it easy to find PNC Park parking; select the game that you need Pittsburgh Pirates parking for, print out your Pittsburgh Pirates parking pass (or use your mobile pass) and enjoy Pittsburgh, Pennsylvania!
Pittsburgh parking at other top destinations:
Parking at other MLB stadiums:
DISCOVER
AMAZING
SPACES
Find parking anywhere, for now or for later
Compare prices & pick the place that's best for you
Find parking anywhere, for now or for later
Compare prices & pick the place that's best for you
RESERVE
PREPAY
& SAVE
Book a space in just a few easy clicks
Save up to 50% off standard rates
Book a space in just a few easy clicks
Save up to 50% off standard rates
DRIVE
ARRIVE
& PARK
Enter easily with your mobile parking pass
Your space is waiting – pull in and go do your thing
Enter easily with your mobile parking pass
Your space is waiting – pull in and go do your thing
GET TO KNOW US
BETTER FOR BUSINESS
LET US HELP YOU
WE'RE SOCIAL
USA