DODGER STADIUM PARKING
Your space is waiting.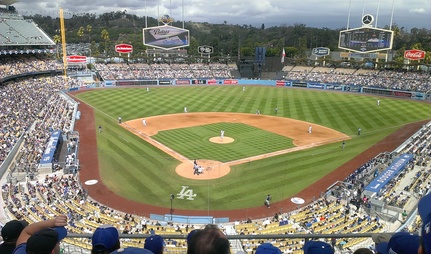 1000 Elysian Park Ave, Los Angeles, CA, 90012
Book now and spend more time on the fun.
BROWSE ALL EVENTS
About Dodger Stadium
If you're searching for a baseball team with a golden past and a promising future, look no further than the Los Angeles Dodgers. Their history stretches back to the beginning of baseball itself, winding through several championships, bitter rivalries and the heartache of an entire city. As they are one of the most popular teams in baseball, finding Los Angeles Dodgers parking spaces will be difficult even when it rains, so it is best to find Dodger Stadium parking in advance to beat the crowd.
Both Dodger Stadium and the forced exodus by Walter O'Malley had their genesis in the condition of Ebbets Field, which served as the Dodgers' home base from 1913-'57. By the 1950s, the arena had shown its age, which was affecting ticket sales. Team owner Walter O'Malley wished to build a new stadium in Brooklyn, but the city refused. Due to this, O'Malley contacted officials from Los Angeles to arrange the move, despite resistance from New York officials. In return, O'Malley was offered land on Chavez Ravine, which became the site of Dodger Stadium. Dodger Stadium is by far the largest baseball stadium in use by the MLB, with a capacity of about 53,275.
The Los Angeles Dodgers were originally from New York City, going under various unofficial names until settling on the Brooklyn Dodgers in 1932. The name "dodger" came from the perception that the players dodged trolleys whilst playing in one of their early parks in New York. During their time in Brooklyn, they won several pennants and other accolades. In addition to being the first ball club to televise their games, they also were the first to break the color barrier by signing Jackie Robinson. The team moved to Los Angeles in 1958, first playing in the Los Angeles Memorial Coliseum until Dodger Stadium opened in July 1962. In total, the team won six World Series titles (1955, 1959, 1963, 1965, 1981 and 1988) and 21 NL pennants. Finding Los Angeles Dodgers parking can be difficult, so it is best to book Dodgers baseball parking spots in advance with ParkWhiz.
ParkWhiz is easy; all you need to do is find the game that you want to see, book your LA Dodgers parking spot and print out your ParkWhiz parking pass. Once that's done, you can relax and enjoy the game, rather than trying to find Dodger Stadium parking spaces.
Los Angeles parking at other popular destinations:
Parking at Other MLB Stadiums:
DISCOVER
AMAZING
SPACES
Find parking anywhere, for now or for later
Compare prices & pick the place that's best for you
Find parking anywhere, for now or for later
Compare prices & pick the place that's best for you
RESERVE
PREPAY
& SAVE
Book a space in just a few easy clicks
Save up to 50% off standard rates
Book a space in just a few easy clicks
Save up to 50% off standard rates
DRIVE
ARRIVE
& PARK
Enter easily with your mobile parking pass
Your space is waiting – pull in and go do your thing
Enter easily with your mobile parking pass
Your space is waiting – pull in and go do your thing
GET TO KNOW US
BETTER FOR BUSINESS
LET US HELP YOU
WE'RE SOCIAL
USA