TD GARDEN PARKING
Your space is waiting.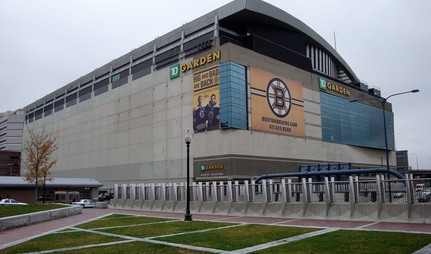 100 Legends Way, Boston, MA, 02114
Book now and spend more time on the fun.
BROWSE ALL EVENTS
About TD Garden
No fan base has been more spoiled since the turn of the century than the one in Boston. Down south in Foxborough the Patriots won four Super Bowls and over by the Charles River the Red Sox won three. Seven titles since 2000 should be plenty to satisfy a Bostonian, but for those who use TD Garden Parking for Celtics and Bruins games, the championships don't stop there. The storied Celtics broke a 20-year title drought in 2008, and the Bruins won their first Stanley Cup in 30 seasons in 2011.
Not surprisingly, both teams have been hot tickets after the success they've achieved. Celtics parking remains at a premium because of an unprecedented foundation of success. The team's 17 championships are more than any other NBA franchise. Settling for a trip to the Finals has never been an issue with the Celtics, who have lost in only four of their 21 trips to the NBA Finals. A tradition of winning has kept Celtics fans loyal as the team enters in a rebuilding stage after parting ways with the key components of their 2008 championship team.
If that hasn't been enough to hold over Boston fans, the Bruins lifted a trophy of their own a couple years ago. The Bruins' first title since the 70's ensured all four major sports teams in Boston had won a championship within 10 years, enough to color a fan in basically any other city green with envy. Unlike their fellow tenant, the Bruins are still reloading, and made it back to the Stanley Cup Finals again, falling just short to Chicago.
As if Boston fans aren't spoiled enough, they've now got ParkWhiz around for their Boston Garden Parking. Garages right next to the Garden make it way too easy for Celtics and Bruins fans to watch their perennial championship contenders.
Boston parking at other popular destinations:
DISCOVER
AMAZING
SPACES
Find parking anywhere, for now or for later
Compare prices & pick the place that's best for you
Find parking anywhere, for now or for later
Compare prices & pick the place that's best for you
RESERVE
PREPAY
& SAVE
Book a space in just a few easy clicks
Save up to 50% off standard rates
Book a space in just a few easy clicks
Save up to 50% off standard rates
DRIVE
ARRIVE
& PARK
Enter easily with your mobile parking pass
Your space is waiting – pull in and go do your thing
Enter easily with your mobile parking pass
Your space is waiting – pull in and go do your thing
GET TO KNOW US
BETTER FOR BUSINESS
LET US HELP YOU
WE'RE SOCIAL
USA