AMWAY CENTER PARKING
Your space is waiting.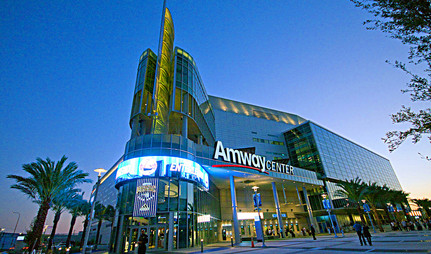 400 W Church St, Orlando, FL, 32801
Book now and spend more time on the fun.
BROWSE ALL EVENTS
About Amway Center
Sparkling new, the Amway Center opened for in 2010, a modern venue for fans to watch games and find Orlando Magic parking. With over twice the square footage, the Amway Center the arena has more general seats, club seats, concourses, bathroom, stores and, of course, suites than its predecessor, the Amway Arena.
Venue-wise, fans of this young, up-and-down franchise have it made. Most venues go decades serving a franchise before being tossed aside for more modern arenas. Yet the Amway Arena, specifically constructed for the Magic, hosted the team for just a little over 10 years before its demolition in 2011. Timing's everything, and the Amway Arena was constructed just before suites and club seats stormed NBA arenas, prompting some to say the old "O-Rena" was outdated before its doors even opened in 1989.
The Magic began calling for renovations just five years into its tenure with the Amway Arena, already stirring up buzz for the eventual Amway Center. Back then, Orlando Magic parking couldn't serve anyone hoping for that luxury experience NBA venues love to promote, making the old arena doomed from the get-go.
After some back-and-forth between the franchise and the city, an agreement was set to open a new arena in 2010, sealing the Amway Arena's fate and capping off a remarkably short run for a pro sports venue. It's a sweet deal for Magic fans though. Now, after they secure Amway Center parking, they get another shiny new place to watch a basketball game.
With the new venue came a new way to park, as drivers now have ParkWhiz at their disposal. We've got lots of lots around for Orlando Magic parking for one to choose from. And Amway Center parking should be here to stay; as no one expects the city to pick up the tab for a third stadium anytime soon.
Parking at other NBA Southeast Division Arenas:
DISCOVER
AMAZING
SPACES
Find parking anywhere, for now or for later
Compare prices & pick the place that's best for you
Find parking anywhere, for now or for later
Compare prices & pick the place that's best for you
RESERVE
PREPAY
& SAVE
Book a space in just a few easy clicks
Save up to 50% off standard rates
Book a space in just a few easy clicks
Save up to 50% off standard rates
DRIVE
ARRIVE
& PARK
Enter easily with your mobile parking pass
Your space is waiting – pull in and go do your thing
Enter easily with your mobile parking pass
Your space is waiting – pull in and go do your thing
GET TO KNOW US
BETTER FOR BUSINESS
LET US HELP YOU
WE'RE SOCIAL
USA