YANKEE STADIUM PARKING
Your space is waiting.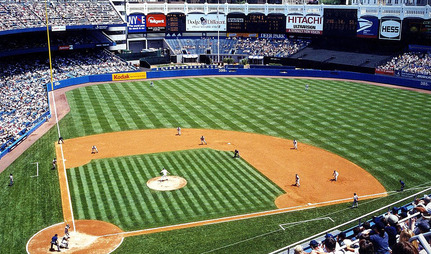 1 E. 161 St., Bronx, NY, 10451
Book now and spend more time on the fun.
BROWSE ALL EVENTS
About Yankee Stadium
ParkWhiz is proud to offer a smorgasbord of Yankee Stadium parking. We've added a couple options for Yankees parking this season, including Select Garages' lot at 70 E 162nd St, right across from Yankee Stadium. We also provide several lots with a "special online rate," meaning you're assured to pay equal or less online with ParkWhiz than you would at drive-up. These include MPG Parking's garage at 171 E 165th St, just across the Grand Concourse. Another is Park-it's lot on 1295 Jerome Ave, about a half-mile from Yankee Stadium, which charges only $7.50 per game.
The new Yankee Stadium opened in 2009, replacing the original ballpark of the same name that had been around since 1923. The $1.5 billion project took three years, and stands as the most expensive ballpark in the world, and second in all arenas only to MetLife Stadium across the Hudson River. The new building retains the historic persona of the original, now-demolished Yankee Stadium. Most notably, the artifacts of Monument Park, an in-stadium museum paying tribute to the dozens of Yankee legends, were transferred into the new Yankee Stadium. The landmark frieze, which spanned the upper decks of the original ballpark until the 1970's, has been resurrected at the new Yankee Stadium. The Yankees also put together the interior Great Hall, another showcase of that prestigious Yankee tradition the team loves to shove in your face.
The Pinstripe Bowl is an annual NCAA football game that began in 2010, announced by Hal Steinbrenner, Michael Bloomberg and Big East and Big 12 officials. Since 2014, the tie-ins have been the Big Ten and the Atlantic Coast Conference. The event takes place in the last week of December every year at Yankee Stadium. The game is officially known as the New Era Pinstripe Bowl, thanks to a naming deal with the New Era Cap Company that began with the first game.
It doesn't take the savviest of travelers to realize Yankee Stadium parking on game days can turn into a mad scene with New York City traffic and road closures surrounding the ballpark. One couldn't be blamed for feeling uneasy searching for a Yankee Stadium parking space. Booking in advance to at least know exactly where you're going and how much you're paying can remove at least some of the game-day stress. Our options range from that Select Garages lot right next door for $35 to the Park-it on Jerome Ave for $7.50, which plenty of choices in between. Garages, valets, and even bathrooms are some of the amenities offered by ParkWhiz lots.
New York City parking at other popular destinations:
DISCOVER
AMAZING
SPACES
Find parking anywhere, for now or for later
Compare prices & pick the place that's best for you
Find parking anywhere, for now or for later
Compare prices & pick the place that's best for you
RESERVE
PREPAY
& SAVE
Book a space in just a few easy clicks
Save up to 50% off standard rates
Book a space in just a few easy clicks
Save up to 50% off standard rates
DRIVE
ARRIVE
& PARK
Enter easily with your mobile parking pass
Your space is waiting – pull in and go do your thing
Enter easily with your mobile parking pass
Your space is waiting – pull in and go do your thing
GET TO KNOW US
BETTER FOR BUSINESS
LET US HELP YOU
WE'RE SOCIAL
USA