UNITED CENTER PARKING
Your space is waiting.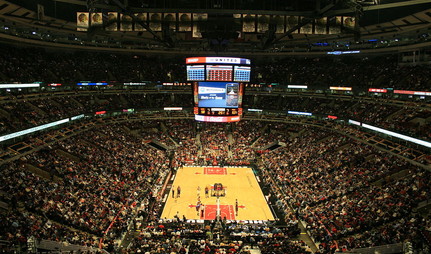 1901 W. Madison St., Chicago, IL, 60612
Book now and spend more time on the fun.
BROWSE ALL EVENTS
About United Center
The United Center is home to two of Chicago's acclaimed teams, the Bulls and the Blackhawks. Both claim the United Center as their home and fight hard to defend it. Many other events take place at the United Center, including UFC fights, WWE wrestling, and concerts by any of the big name artists passing through town.Though the parking lot surrounding the stadium is pretty big, the success of local teams means it fills up fast. Luckily for the busy sports fan, ParkWhiz can take care of United Center Parking for you!
Since opening in 1994, over 20 million fans have made noise in the "Madhouse on Madison." "The din has been especially loud in recent years, when the Blackhawks took the Stanley Cup in 2011, 2013, and 2015. For the 2009-10 season, the United Center underwent renovations, including four new bars, new food and concession stands on level 300, almost 150 new flat-screen televisions on the concourse, and two new merchandise areas.
As many changes as there have been, history holds a special place with Chicago fans. No discussion of the United Center would be complete without mention of former Chicago Bulls player Michael Jordan. Just outside the stadium, a statute named "The Spirit" depicts Jordan launching over another player, just milliseconds away from a dunk. When fans meet at the statue, parking isn't always at the top of their minds, but when the game is about to start, having no place to park could definitely make any Bulls' fan see red. You can breathe easy if you let ParkWhiz handle Chicago Blackhawks parking for you. Whether you use the app or our website, find your happy space by searching for your event, buying your pass, and leaving your United Center parking to us!
Chicago Parking for other Sporting Events:
Photo by Gavindow [GFDL (http://www.gnu.org/copyleft/fdl.html) or CC BY 3.0 (http://creativecommons.org/licenses/by/3.0)], via Wikimedia Commons
DISCOVER
AMAZING
SPACES
Find parking anywhere, for now or for later
Compare prices & pick the place that's best for you
Find parking anywhere, for now or for later
Compare prices & pick the place that's best for you
RESERVE
PREPAY
& SAVE
Book a space in just a few easy clicks
Save up to 50% off standard rates
Book a space in just a few easy clicks
Save up to 50% off standard rates
DRIVE
ARRIVE
& PARK
Enter easily with your mobile parking pass
Your space is waiting – pull in and go do your thing
Enter easily with your mobile parking pass
Your space is waiting – pull in and go do your thing
GET TO KNOW US
BETTER FOR BUSINESS
LET US HELP YOU
WE'RE SOCIAL
USA