THE WILBUR THEATRE PARKING
Your space is waiting.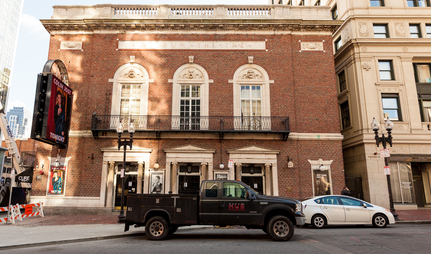 246 Tremont St, Boston, MA, 02116
Book now and spend more time on the fun.
BROWSE ALL EVENTS
About The Wilbur Theatre
Boston is a town with a storied past going back centuries, making it possible to find the new next door to the old, the exquisite next to the convenient, or in the case of the Wilbur Theater, the beautiful with the awesome. Originally built in 1914, this edifice of federal architecture now has both comedians and musical acts as its guests rather than the formal plays it was designed for. It's often hard to find Wilbur Theater parking spaces, with only around 1,200 seats and top-billed comedians like Aziz Ansari, Demetri Martin, Janeane Garofalo, Tracy Morgan and Adam Carolla paying an evening visit to the Wilbur.
This change in genre is thanks to comedian Bill Blumenreich of Comedy Connection fame, who signed a 20-year lease on the property in June of 2008. The theater is located south of Boston Common and northeast of Boston Medical Center, making it a very busy area to be in. To help fans find their comedy, ParkWhiz now works to provide Wilbur parking spots in advance. It's funnier to be in the theater to watch a show, and not so funny to be late and without a parking spot.
When the Shubert brothers built the theater, they named the auditorium after their theater manager and friend, A.L. Wilbur. The building was designed by the architect Clarence H. Backall with an emphasis on referencing the American colonial style used earlier in the nation's history. The structure was purchased in 1987 by Robert S. Merowitz, who quickly started work with half a million dollars in renovations. In the past, it hosted musicals such as A Streetcar Named Desire, Wait Until Dark, My Sister Eileen, Hair, and more. Well-known Hollywood stars played in shows earlier in the Wilbur's history, including Marlon Brando, Faye Dunaway, Marisa Tomei, Quentin Tarantino, Fred Astaire and Karl Malden. While the stars at the Wilbur these days are comedians, they still draw quite a crowd. Smart fans plan ahead, and in this case, so did the Wilbur, by partnering with ParkWhiz for its parking needs. If you don't want to come to a show late and be called out by the on-stage comedian, it's best to find Wilbur theater parking on ParkWhiz, book your spot and come on time.
ParkWhiz is fun, like comedy, and easy (not like comedy). If you plan ahead and use ParkWhiz, you can find your event, book your Wilbur Theater parking spot and print your parking pass. When you bring your ParkWhiz parking pass with you, you can relax and let the comedian sweat it trying to make the crowd laugh, rather than showing up late and having the crowd laugh at you.
Boston parking at other popular destinations:
DISCOVER
AMAZING
SPACES
Find parking anywhere, for now or for later
Compare prices & pick the place that's best for you
Find parking anywhere, for now or for later
Compare prices & pick the place that's best for you
RESERVE
PREPAY
& SAVE
Book a space in just a few easy clicks
Save up to 50% off standard rates
Book a space in just a few easy clicks
Save up to 50% off standard rates
DRIVE
ARRIVE
& PARK
Enter easily with your mobile parking pass
Your space is waiting – pull in and go do your thing
Enter easily with your mobile parking pass
Your space is waiting – pull in and go do your thing
GET TO KNOW US
BETTER FOR BUSINESS
LET US HELP YOU
WE'RE SOCIAL
USA