ROCKET MORTGAGE FIELDHOUSE PARKING
Your space is waiting.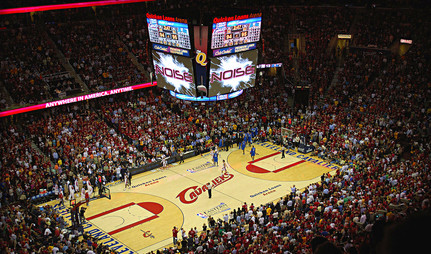 1 Center Ct., Cleveland, OH, 44115
Book now and spend more time on the fun.
BROWSE ALL EVENTS
About Rocket Mortgage FieldHouse
No NBA team is the same, due to their skill, their reputation or other feature. No NBA team has exactly the same advantage: some excel at scoring, others focus on defense, while unfortunately for the Cleveland Cavs, some are just good at losing. The Cleveland Cavaliers have been in the latter category for most of their history, and only time will tell if they improve. Either way, finding Cleveland Cavaliers parking spaces at Rocket Mortgage FieldHouse will likely be a challenge on game day, so it's best to book Cavs parking ahead of time.
While the Cavs have their issues, the former Quicken Loans Arena is a spacious stadium, with 20,562 seats, the fourth-largest in the NBA. In addition to hosting the Cleveland Cavaliers, the venue's also home to several minor league teams, as well as concerts, wrestling and NCAA basketball games. Past concert guests include Rush, Bruce Springsteen, Diana Ross and the Dixie Chicks. As the Cavs work tirelessly toward winning the NBA Finals, the one constant will be that finding Cavs parking spaces will continue to be difficult, so it is advisable to book your Rocket Mortgage FieldHouse parking spaces ahead of time with ParkWhiz.
The Cleveland Cavaliers have a troubled history, including losing streaks, odd trades and eccentric managers. The team had some good times despite these issues, including 18 playoff seasons, three division titles (1976, 2009-'10) and a conference championship. But as a whole, NBA history hasn't been kind to Cleveland. For example, the Cavs had a key role in the 1989 NBA Playoffs and the legacy of the Chicago Bulls' Michael Jordan, providing a stepping stone for him to showcase his skill. For instance, in the fifth game, Michael Jordan hit "The Shot" at the buzzer to send the Cavs home. The Cavs were fortuitous enough to draft Lebron James in 2003, but to this day feel a stinging betrayal due to his move to Miami in 2010 as a free agent. Finding Cleveland Cavaliers parking can be difficult, so booking Cleveland basketball parking spots in advance with ParkWhiz is the best solution.
ParkWhiz is easy; all you need to do is find the game that you want to see, book your Cleveland Cavs basketball parking spot and print out your ParkWhiz parking pass. Once that's done, you can relax and enjoy the game, rather than trying to find parking at Rocket Mortgage FieldHouse.
Cleveland parking at other popular destinations:
DISCOVER
AMAZING
SPACES
Find parking anywhere, for now or for later
Compare prices & pick the place that's best for you
Find parking anywhere, for now or for later
Compare prices & pick the place that's best for you
RESERVE
PREPAY
& SAVE
Book a space in just a few easy clicks
Save up to 50% off standard rates
Book a space in just a few easy clicks
Save up to 50% off standard rates
DRIVE
ARRIVE
& PARK
Enter easily with your mobile parking pass
Your space is waiting – pull in and go do your thing
Enter easily with your mobile parking pass
Your space is waiting – pull in and go do your thing
GET TO KNOW US
BETTER FOR BUSINESS
LET US HELP YOU
WE'RE SOCIAL
USA