PROGRESSIVE FIELD PARKING
Your space is waiting.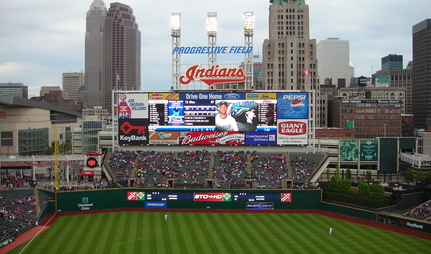 2401 Ontario St, Cleveland, OH, 44115
Book now and spend more time on the fun.
BROWSE ALL EVENTS
About Progressive Field
On a sunny afternoon in Cleveland, there is nothing more relaxing than going to Progressive Field, buying a freshly grilled hot-dog and a cold drink, and watching the Cleveland Indians do what they are meant to do - play ball. With a capacity of over 43,000, a retro-modern feel and a proven history of selling out, Progressive Field is an impressive arena for America's Pastime. The only downside is that finding a place to park at the Cleveland Indians parking lot is challenging if you don't have a reserved spot when the game is about to begin, the beer is perfectly chilled and your seats are right by the dug-out as the national anthem begins to play. Built to replace the previous Cleveland Municipal Stadium, Progressive Field was designed from the get-go to evoke nostalgia for the stadiums of old while still providing modern amenities to players and fans. From the perspective of an outsider looking at the exterior, the stadium looks like a normal, modern arena, but once you step inside, occasionally it feels like you are going back in time. The interior makes use of a simple yet unified color scheme, asymmetrical fences, a small upper deck area and other features to evoke the espirit-de-corps of the golden age of baseball. Even if you have a ticket for a really nice seat (or at least not one in the nosebleed section), if you don't have a parking spot before the game is about to begin, you might be out of luck -- unless you reserved a parking spot with ParkWhiz, in which case all you have to do is park your car.
When the Cleveland Indians found that they needed a modern replacement for the former Cleveland Municipal Stadium, what would come to be known as Progressive Field was the end result. After two years of construction, Jacobs Field was open for business in 1994, named after ballpark owner Richard Jacobs and his brother David. The name was changed to Progressive Field in 2008 after the Progressive Insurance Company bought the rights to rename what had been known to fans as "The Jake." Even though it is known these days as "The Prog," the field is still just as great when it was built. Fans have been so enthusiastic for the Stadium and its tenant, the Cleveland Indians, that it set a major league attendance record from June 12, 1995 to April 4, 2001 with a total of 455 consecutive games selling out! To add to that, during this period, all home games were sold before the first game during five seasons, and impressive feat for any stadium. Of course, the Stadium isn't the only attraction - people flock to Progressive Field to see the team of the fabled Bob Feller, the Cleveland Indians often parking the ball out of the ballpark itself! The Cleveland Indians won the World Series in 1920 and 1948, while winning the American League Pennant in 1920, 1948, 1954, 1995 and 1997. No matter what happens, John Adams will keep drumming for the team, rallying the fans to cheer the team, even if there is another bug game. The only thing that could bug you when the game is about to start is that you might not have a parking place; luckily, ParkWhiz can help you take care of that ahead of time so you can have a nice day out with your friends and family.
ParkWhiz allows you to reserve your parking place long before the game begins. All you have to do is find the game that you want to go to, book your parking and print your parking pass. When you bring your pass to the Progressive Field parking lot, your spot is all yours - no hunting for a spot or anything else that could cause you stress, thanks to ParkWhiz.
Cleveland parking at other popular destinations:
DISCOVER
AMAZING
SPACES
Find parking anywhere, for now or for later
Compare prices & pick the place that's best for you
Find parking anywhere, for now or for later
Compare prices & pick the place that's best for you
RESERVE
PREPAY
& SAVE
Book a space in just a few easy clicks
Save up to 50% off standard rates
Book a space in just a few easy clicks
Save up to 50% off standard rates
DRIVE
ARRIVE
& PARK
Enter easily with your mobile parking pass
Your space is waiting – pull in and go do your thing
Enter easily with your mobile parking pass
Your space is waiting – pull in and go do your thing
GET TO KNOW US
BETTER FOR BUSINESS
LET US HELP YOU
WE'RE SOCIAL
USA