PRUDENTIAL CENTER PARKING
Your space is waiting.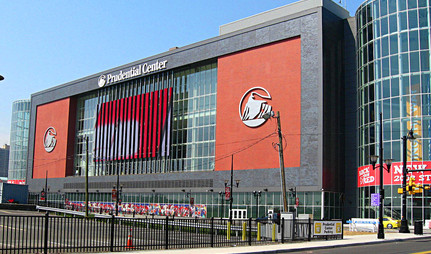 165 Mulberry St., Newark, NJ, 07102
Book now and spend more time on the fun.
BROWSE ALL EVENTS
About Prudential Center
For years, Devils and Nets fans were stuck commuting up to the edge of New York City to the New Jersey Meadowlands, a barren district of swampy plains with a sports complex on it. The Jets and Giants played at Giants Stadium, while the Devils and Nets played at the Continental Airlines Arena. The football teams remain exiled outside New York at their new field, MetLife Stadium. The Nets have since moved inside New York City into the brand-new Barclays Center. But the Devils have come home to the arena and the Newark parking service they deserve at the Prudential Center.
"The Rock" has finally given Devils fans a modern downtown arena in New Jersey's most populous city, and perhaps more importantly, some stability to a franchise subjected to constant rumors of relocation. Despite contending for championships year after year (the Devils lifted the Stanley Cup three times between 1995 and 2003) the franchise couldn't quiet whispers of moving the franchise. Fans weren't filling the old arena, nor the old giant surface lot for Devils parking. Fortunately for Devils die-hards, the city approved a deal for an arena in downtown Newark. Now the Devils and their fans are happy with an arena of their own and no clamors of relocation.
Such a nice venue hasn't limited itself to hockey, as major concert tours often make a point of stopping at the Prudential Center. The likes of Selena Gomez, Drake, Nine Inch Nails and Josh Groban hit the Pru for performances just outside the Big Apple. If you think hockey fans are crazy, try finding Prudential Center parking with 15,000 teenage girls screaming at your car.
Prudential Center Newark parking is a bit trickier than finding a spot in the spacious Meadowlands lots, but now fans have ParkWhiz by their side. A Prudential Center parking garage is waiting for you and your parking pass!
Photo by Jim.henderson (Own work) [Public domain], via Wikimedia Commons
DISCOVER
AMAZING
SPACES
Find parking anywhere, for now or for later
Compare prices & pick the place that's best for you
Find parking anywhere, for now or for later
Compare prices & pick the place that's best for you
RESERVE
PREPAY
& SAVE
Book a space in just a few easy clicks
Save up to 50% off standard rates
Book a space in just a few easy clicks
Save up to 50% off standard rates
DRIVE
ARRIVE
& PARK
Enter easily with your mobile parking pass
Your space is waiting – pull in and go do your thing
Enter easily with your mobile parking pass
Your space is waiting – pull in and go do your thing
GET TO KNOW US
BETTER FOR BUSINESS
LET US HELP YOU
WE'RE SOCIAL
USA