700 Hennepin Ave.
Seven Steakhouse & Sushi - Valet Kiosk
About This Facility
Convenient valet parking for Seven Steakhouse & Sushi in downtown West. Offers easy access to the Pantages Theatre, Studio B at Skyway Theatre, State Theatre, and New Century Theatre.
1/4
Operated by Unparalleled Parking
How to Park
1.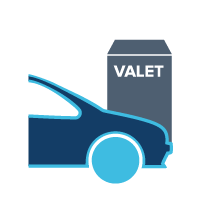 Present parking pass to valet at curbside kiosk in exchange for valet-ticket
2.
If attendant is not at kiosk, please wait as they are parking another vehicle and will return shortly
3.
When you return, present valet-ticket to attendant (tip not included in reservation)