Event Parking For
Lucas Oil Stadium
July 18, 6:00 PM EDT
Guns N' Roses: 2020 Tour [Rescheduled due to COVID-19]
201 S. Capitol Ave.
Pan Am Plaza Garage
About This Facility
Secure and affordable underground garage in the Wholesale District. Just a short walk to Lucas Oil Stadium, Bankers Life Fieldhouse, Indiana Convention Center, and Circle Centre Mall.
During large events, the Illinois St entrance will be the only way in and out of the facility due to road closures. Please leave time for enhanced security screening at the stadium.
Height Restrictions – Low Clearance Garage – Clearance is 6'2"
1/4
Operated by Denison Parking, Inc.
How to Park
1.
Upon arrival, show pass to attendant in exchange for exit ticket
2.
Park in any space not marked "reserved"
3.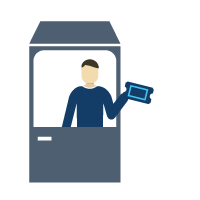 When leaving, show exit ticket and parking pass to attendant