MINSKOFF THEATRE PARKING
Your space is waiting.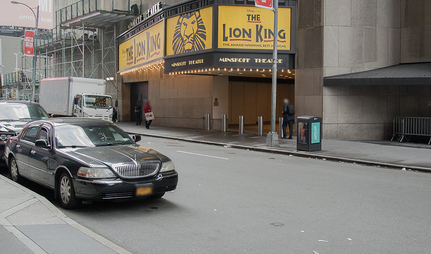 1515 Broadway, New York, NY, 10036
Book now and spend more time on the fun.
BROWSE ALL EVENTS
About Minskoff Theatre
New York City, and Manhattan in particular, is an incredibly busy, yet compressed space, a hive of people. Adding Broadway to the mix makes it even more busy, as shows often sell out, and finding a place to park anywhere nearby is difficult. This is embodied with the famous Minskoff Theatre, which not only puts on Broadway shows, but is located on the storied street itself. The situation with Minskoff Theatre parking is hard enough as it is, but with around 1,600 seats, when you go to a show and need to park, if you don't plan ahead, you are often out of luck. With ParkWhiz, you can book a parking place in advance, allowing you to step right up and park without having to find a spot in the concrete jungle.
Built in 1973, the Minskoff has been host to as many famous Broadway productions as there are buildings in the New York skyline. Examples of blockbuster shows at the Minskoff include West Side Story, Cabaret, Fiddler on the Roof, Joseph and the Amazing Technicolor Dreamcoat, Sunset Boulevard and Hello, Dolly! In the past few years, if you can brave a safari through Manhattan, you can see the Minskoff's premiere production of Disney's The Lion King, which happened to park at the Minskoff in 2006.
The Minskoff was titled after their namesake, Sam Minskoff and Sons, which is a storied family of the New York real estate industry. The Minskoff Theatre is owned by the Nederlander group, a reputable organization that owns several other theatres, such as the Palace Theatre, Gershwin Theatre, Cadillac Palace Theatre and many more. The theatre boasts dual escalators in the lobby, a convenience that allows ticket-holders access to the third level of the Grand Foyer, where they can purchase beverages before the show. With a repeated golden motif in the lobby, exquisite chandeliers in the auditorium proper and an alert tan, red and black theme inside, the Minskoff has made up for its recent vintage with style and star power. All these famous productions make it common for shows to sell out, so the street-smart thing is to book Minskoff Theatre parking in advance.
With ParkWhiz, booking a spot for Minskoff Theatre parking is no sweat. All you need to do is go to the ParkWhiz website, find your show book your spot, print out your ticket and get ready for the show. When you bring your ParkWhiz parking pass to the Minskoff, you only have to worry about getting snacks for the kids, rather than finding a parking spot for your car.
New York City parking at other popular destinations:
DISCOVER
AMAZING
SPACES
Find parking anywhere, for now or for later
Compare prices & pick the place that's best for you
Find parking anywhere, for now or for later
Compare prices & pick the place that's best for you
RESERVE
PREPAY
& SAVE
Book a space in just a few easy clicks
Save up to 50% off standard rates
Book a space in just a few easy clicks
Save up to 50% off standard rates
DRIVE
ARRIVE
& PARK
Enter easily with your mobile parking pass
Your space is waiting – pull in and go do your thing
Enter easily with your mobile parking pass
Your space is waiting – pull in and go do your thing
GET TO KNOW US
BETTER FOR BUSINESS
LET US HELP YOU
WE'RE SOCIAL
USA