MADISON SQUARE GARDEN PARKING
Your space is waiting.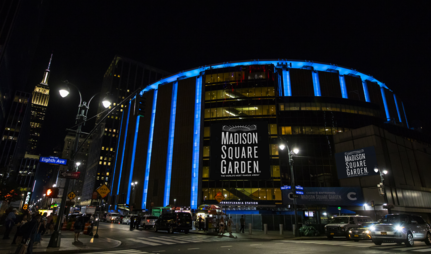 4 Pennsylvania Plaza, New York, NY, 10001
Book now and spend more time on the fun.
BROWSE ALL EVENTS
About Madison Square Garden
New York City provides limitless entertainment options for visitors, but no venue can pack more variety, history and star power into one building than the famous Madison Square Garden. It can be difficult to find a parking space in Manhattan as it is, so it is smart to book Madison Square Garden parking ahead of the event with ParkWhiz. The current structure bearing the name is the fourth in a series of Manhattan venues named "Madison Square Garden", built atop Pennsylvania Station and opening to the public in February 1968. The venue is home to two major league teams, the New York Rangers of the NHL and the New York Knicks of the NBA. The Rangers have always been closely associated with the venue, with the organization's then-president George Lewis "Tex" Rickard obtaining an NHL franchise in 1926, and the team named after him as "Tex's Rangers". The venerable Rangers have won four Stanley Cups, in 1927-28, 1932-33, 1939-40 and 1993-94, in addition to two Conference championships, three President's Trophies and seven Division championships. The New York Knicks's origin was also related to the venue, with the New York team for the nascent Basketball Association of America in 1946 being awarded to Ned Irish, who was president of the venue at the time. The team participated in the first game of what would eventually be the NBA later that year. The storied Knicks have won two league Championships in 1970 and 1973, four Conference titles and eight Division titles. With not only basketball and hockey but boxing and concerts and more to choose from at "The Garden", it is prudent to book Madison Square Garden parking in advance with ParkWhiz.
DISCOVER
AMAZING
SPACES
Find parking anywhere, for now or for later
Compare prices & pick the place that's best for you
Find parking anywhere, for now or for later
Compare prices & pick the place that's best for you
RESERVE
PREPAY
& SAVE
Book a space in just a few easy clicks
Save up to 50% off standard rates
Book a space in just a few easy clicks
Save up to 50% off standard rates
DRIVE
ARRIVE
& PARK
Enter easily with your mobile parking pass
Your space is waiting – pull in and go do your thing
Enter easily with your mobile parking pass
Your space is waiting – pull in and go do your thing
GET TO KNOW US
BETTER FOR BUSINESS
LET US HELP YOU
WE'RE SOCIAL
USA