GRAMERCY THEATRE PARKING
Your space is waiting.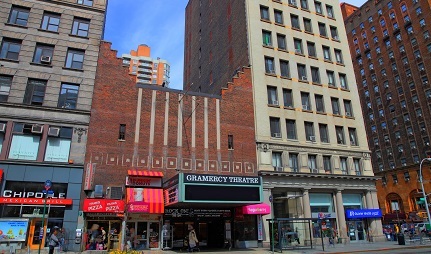 127 East 23rd Street, New York, NY, 10010
Book now and spend more time on the fun.
BROWSE ALL EVENTS
About Gramercy Theatre
The area in Manhattan known as Gramercy Park is interesting being both a private park and a neighborhood. Headlining the unique district is the Gramercy Theatre. Just like people who reinvent themselves, the Gramercy Theatre was repurposed several times before becoming a music venue. In the crowded area of Gramercy Park, it is often hard to find parking, but especially so before a show, so it is best to book Gramercy Theatre parking in advance.
The theatre was constructed in 1937 by Charles A. Sandblom, in an art-deco style called Streamline Moderne. This style gave off a feeling of modernity and industrial design. The Gramercy Theatre, as a utilitarian vessel for the desires of the age, suited this style perfectly. It began life as a movie theatre before being purchased by the Cinema V chain in the 1950s, showing art-house films. For a time, it showed second- and third-run movies before closing for a few years. It changed from Hollywood classics to Bollywood, then to off-broadway shows, which suited its capacity of 499 seats. The Roundabout Theater Company owned it from 1999 to 2002, until it closed to become property of the Museum of Modern Art.
Finally, in 2006, it was purchased by LiveNation to become a concert venue. It was known as "The Blender Theater at Gramercy" from 2007-'09, but soon just became the Gramercy Theatre again. Past musical guests include Jay-Z, the Jonas Brothers, Rufus Wainwright, Counting Crows and Huey Lewis & The News. Though the theatre has been repurposed several times, this is probably its best use, and a good place to hang out with friends. Depending on the concert, finding Gramercy Theatre parking may be hard to find, so booking former Blender Theater parking spaces with ParkWhiz is the best way to get to the show.
ParkWhiz is easy; all you need to do is find the game that you want to see, book your Gramercy Theatre parking spot, print out your ParkWhiz parking pass and enjoy the show.
New York City parking at other popular destinations:
DISCOVER
AMAZING
SPACES
Find parking anywhere, for now or for later
Compare prices & pick the place that's best for you
Find parking anywhere, for now or for later
Compare prices & pick the place that's best for you
RESERVE
PREPAY
& SAVE
Book a space in just a few easy clicks
Save up to 50% off standard rates
Book a space in just a few easy clicks
Save up to 50% off standard rates
DRIVE
ARRIVE
& PARK
Enter easily with your mobile parking pass
Your space is waiting – pull in and go do your thing
Enter easily with your mobile parking pass
Your space is waiting – pull in and go do your thing
GET TO KNOW US
BETTER FOR BUSINESS
LET US HELP YOU
WE'RE SOCIAL
USA