BEACON THEATRE PARKING
Your space is waiting.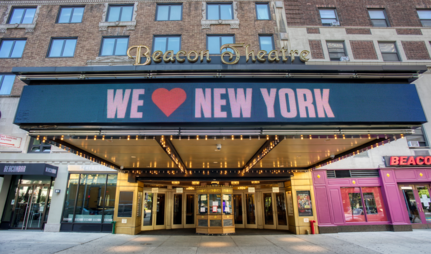 2124 Broadway, New York, NY, 10023
Book now and spend more time on the fun.
BROWSE ALL EVENTS
About Beacon Theatre
When discussing historical New York Theatres, it would be absurd to not mention The Beacon Theatre. The Beacon, a 2,984-seat, three-tiered theatre, and little sister to the Roxy Theatre, opened in 1929 with the intention of housing vaudeville acts, opera, movies, and more. With all those seats, and being located in the heart of NYC's cultural hub, one can expect Beacon Theatre parking to be burdensome; at ParkWhiz, we're here to make the burden a thing of the past.
Although The Beacon is considered to be historic, it is in no way a thing of the past. In 1974, Steven Singer bought the theatre and wasted no time in shaping it into one of the Country's premier music and performance halls, all while preserving it's glamorous Neo-Grec interior. The Beacon's exceptional acoustics, which were originally designed for musical accompaniment, led it to be the premier Upper West Side Venue for concerts; especially those in the pop, rock and jam band genre.
In '76 the theatre changed hands again, but continued down the new path that had been paved by Singer, featuring an "Unbroken Chain" of concerts by the Grateful Dead. In 1989 The Allman Brothers Band began holding annual shows at the Beacon, known as "The Beacon Run"; March 25th, 2011 The Allman Bros reached a milestone by putting on their 200th show on The Beacon's stage, and show no sign of stopping just yet. Other noteworthy musical performers who have graced The Beacon Theatre's stage are The Rolling Stones, Michael Jackson, and Queen.
The Beacon's prestige doesn't stop with music; that's just where it begins. The Beacon has been home to many comedy specials over the years, including some of the best material George Carlin, Louis C.K., and Conan O'brien have ever given us the pleasure of laughing at.
Regardless of what event you're going to see, if it's at the Beacon, you're in for a treat. If you're lucky enough to have Beacon Theatre tickets, a guaranteed seat, why not get guaranteed Beacon Theatre parking as well? With the overwhelming excitement that is sure ensue after you've purchased tickets to a Beacon Theatre show, don't forget about the overwhelming frustration that NYC Parking can bring about. Using ParkWhiz, and booking a parking spot for The Beacon Theatre online will alleviate that frustration so you can be fully enamored by the sights and sounds once you're in the theatre.
New York City parking at other popular destinations:
DISCOVER
AMAZING
SPACES
Find parking anywhere, for now or for later
Compare prices & pick the place that's best for you
Find parking anywhere, for now or for later
Compare prices & pick the place that's best for you
RESERVE
PREPAY
& SAVE
Book a space in just a few easy clicks
Save up to 50% off standard rates
Book a space in just a few easy clicks
Save up to 50% off standard rates
DRIVE
ARRIVE
& PARK
Enter easily with your mobile parking pass
Your space is waiting – pull in and go do your thing
Enter easily with your mobile parking pass
Your space is waiting – pull in and go do your thing
GET TO KNOW US
BETTER FOR BUSINESS
LET US HELP YOU
WE'RE SOCIAL
USA