ASTOR PLACE THEATRE PARKING
Your space is waiting.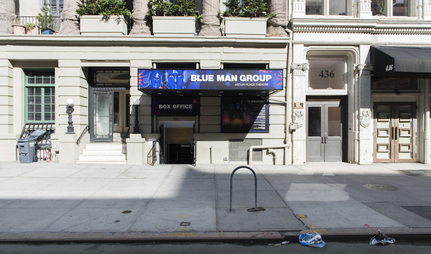 434 Lafayette St., New York, NY, 10003
Book now and spend more time on the fun.
BROWSE ALL EVENTS
About Astor Place Theatre
One of the most original acts on Off-Broadway is the Blue Man Group, a melange of slapstick comedy, music and blue paint. Based in the Astor Place Theatre for their NYC shows, their performances are incredibly popular, so it is a smart choice to book Astor Place Theatre parking ahead of time, or else risk coming in late to the show. While this is an important note for every event, it is particularly prescient in the case of Blue Man Group. As the Blue Man Group will single out those who come in late and then involve them in the show, booking Astor Place Theatre parking is a great idea.
The building that houses the theater was originally built in 1832 as part of a complex known as Colonnade Row. The complex consisted of nine Greek revival townhouses, which were built for John Jacob Astor in 1832. The townhouses were built out of marble and were joined together with Corinthian columns in a colonnade, hence the name. Over time, five of the nine structures were torn down, with the building that would become the Astor Place Theatre only becoming a city landmark in 1965. The Astor Place Theatre came into existence when Bruce Mailman purchased 434 Lafayette Street in 1965, which opened for business in 1968 with the play The Indian Wants the Bronx. In 1991, the four-year old Blue Man Group began their New York City production at the Astor Place Theatre, which has been so successful that they now own the building.
Blue Man Group began in 1987 through the efforts of Matt Goldman, Phil Stanton and Chris Wink, first performing in small venues. They were discovered by Artistic Director Meryl Vladimer at a variety show, who requested that the group create a full-length show. This full-length piece was favorably reviewed in the New York Times, resulting in a meteoric rise, including dedicated theatres across the US, worldwide tours and cruise ship performances. During these shows, the cast members are covered in blue paint, never speak, and frequently involve the audience in what happens on stage. The postmodern performance includes heavy use of percussive music on experimental instruments, meditations on modernity and much more. These spectacular performances fill the seats of the Astor Place Theatre regularly, which makes it hard to find Blue Man Group NYC parking unless you book Astor Place Theatre parking ahead of time with ParkWhiz.
ParkWhiz makes it easy to find Blue Man Group parking; select the Blue Man Group performance that you're seeing, what time you will be parking at the Astor Place Theater on the event date, print out your Astor Place Theater parking pass (or use your mobile pass) and enjoy the show!
New York City parking at other popular destinations:
DISCOVER
AMAZING
SPACES
Find parking anywhere, for now or for later
Compare prices & pick the place that's best for you
Find parking anywhere, for now or for later
Compare prices & pick the place that's best for you
RESERVE
PREPAY
& SAVE
Book a space in just a few easy clicks
Save up to 50% off standard rates
Book a space in just a few easy clicks
Save up to 50% off standard rates
DRIVE
ARRIVE
& PARK
Enter easily with your mobile parking pass
Your space is waiting – pull in and go do your thing
Enter easily with your mobile parking pass
Your space is waiting – pull in and go do your thing
GET TO KNOW US
BETTER FOR BUSINESS
LET US HELP YOU
WE'RE SOCIAL
USA