TARGET FIELD PARKING
Your space is waiting.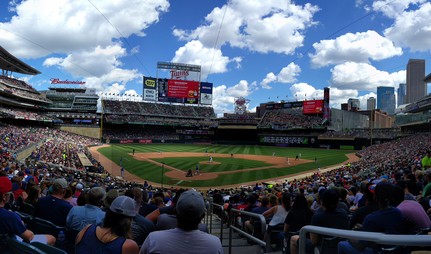 1 Twins Way, Minneapolis, MN, 55403
Book now and spend more time on the fun.
BROWSE ALL EVENTS
About Target Field
One would think it might be difficult for two cities to share the same MLB team, but Minneapolis and St. Paul, Minn. don't seem to mind. The team moved into its new location at Target Field in downtown Minneapolis in 2010, but finding Target Field parking may be difficult unless you book Twins parking spaces ahead of time.
Target Field was designed to be dedicated to baseball, as the Twins' previous venue, the Metrodome, was multipurpose and controversially had features that may have contributed to their World Series wins in 1987 and 1991. In addition to other common attractions, there is a large "Minnie and Paul" logo in center field, representing the unity of the two cities that compose the team. With this modern stadium, a top-notch team and a good deal of ambition, finding Twins Baseball stadium parking will likely get difficult. If you book your Twins parking spaces in advance with ParkWhiz, you'll only have to worry about what food to get at Target Field, rather than where to park your car.
Like most teams, the Minnesota Twins did not start out in their home city. Before being known as the Twins, the team was known as the Washington Nationals (or Senators), a team infamous for its bad luck. They came into existence in 1901, but constantly finished at the bottom of the American League, with one of their only high points being their 1924 World Series win against the New York Giants. The Twins were the AL Champions the following season, but lost the World Series and fell into a pond of mediocrity before moving to Minnesota. After moving to the Metrodome in 1982, the Twins won the 1987 and 1991 World Series, albeit with allegations of a home-field advantage, as they won their four home games. The team moved to Target in 2010, and have been there since, continuing to work towards the World Series.  Finding a Target Field parking space might get difficult on the day of a game, so it is best to book your Twins parking space in advance with ParkWhiz.
ParkWhiz is easy; all you need to do is find your game, book your Twins baseball stadium parking spot and print your ParkWhiz parking pass. When you bring the parking pass with you to the stadium, you only have to fret over which beer to get, not where to park your car.
Minneapolis parking at other popular destinations:
Looking for Vikings parking? Vist our Minnesota Vikings at US Bank Stadium page!
Parking at other MLB Stadiums:
DISCOVER
AMAZING
SPACES
Find parking anywhere, for now or for later
Compare prices & pick the place that's best for you
Find parking anywhere, for now or for later
Compare prices & pick the place that's best for you
RESERVE
PREPAY
& SAVE
Book a space in just a few easy clicks
Save up to 50% off standard rates
Book a space in just a few easy clicks
Save up to 50% off standard rates
DRIVE
ARRIVE
& PARK
Enter easily with your mobile parking pass
Your space is waiting – pull in and go do your thing
Enter easily with your mobile parking pass
Your space is waiting – pull in and go do your thing
GET TO KNOW US
BETTER FOR BUSINESS
LET US HELP YOU
WE'RE SOCIAL
USA