PAYCOM CENTER PARKING
Your space is waiting.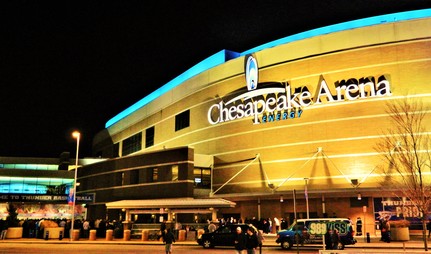 100 W. Reno Ave., Oklahoma City, OK, 73102
Book now and spend more time on the fun.
BROWSE ALL EVENTS
About Paycom Center
The Oklahoma City Thunder is an interesting team, party because of the route they took to land in their current home city. For a state that never had a major league team of any sort prior to 2008, their new friends are priceless. Seattle Sonics fans, however, don't share the same admiration. Located in Paycom Center, formerly Chesapeake Energy Arena, the success of the OKC Thunder has made finding Thunder parking spaces rather difficult on the day of a game, so it is best to stay dry and book OKC basketball parking spots in advance with ParkWhiz.
Until the Thunder struck, Paycom Center did not have any major league teams. Following Hurricane Katrina and the ensuing devastation, the New Orleans Hornets spent two years as tenants in Oklahoma City. Attendance during New Orleans' tenure at the stadium caught the eye of the NBA. From there an investment group from OKC purchased the Seattle SuperSonics and announced the team's relocation to Oklahoma City.
The OKC Thunder were originally known as the Seattle SuperSonics since 1967 until the move in 2008. In 2006, the team was sold to an Oklahoma City-based group that immediately went to work relocating the team to OKC. After a fractious legal row with the city of Seattle, it was agreed that the NBA history would be shared between the two cities, such that titles won under the SuperSonics would be applicable to the Thunder. Prior to the move, the SuperSonics were a decent franchise; winners of the 1979 NBA Finals, three conference titles (1978-79, 1996) and six division championships (1979, 1994, 1996-98, 2005). Since the move, the OKC Thunder also won a conference title (2012) and three division titles (2011-13). This accomplished young team will be a force in the NBA for years to come.
ParkWhiz is easy; all you need to do is find the game that you want to see, book your Oklahoma Thunder basketball parking spot and print out your ParkWhiz parking pass. Once that's done, you can relax and enjoy the game, rather than trying to find parking at Paycom Center.
Photo by Urbanative (Own work) [CC BY-SA 3.0 (http://creativecommons.org/licenses/by-sa/3.0)], via Wikimedia Commons
DISCOVER
AMAZING
SPACES
Find parking anywhere, for now or for later
Compare prices & pick the place that's best for you
Find parking anywhere, for now or for later
Compare prices & pick the place that's best for you
RESERVE
PREPAY
& SAVE
Book a space in just a few easy clicks
Save up to 50% off standard rates
Book a space in just a few easy clicks
Save up to 50% off standard rates
DRIVE
ARRIVE
& PARK
Enter easily with your mobile parking pass
Your space is waiting – pull in and go do your thing
Enter easily with your mobile parking pass
Your space is waiting – pull in and go do your thing
GET TO KNOW US
BETTER FOR BUSINESS
LET US HELP YOU
WE'RE SOCIAL
USA