Select the start time and end time
for your booking here.
815 14th St. NW
Hilton Garden Inn - Valet
About This Facility
Safe and convenient valet parking at the Hilton Garden Inn situated in Downtown Washington. Situated near Verizon Center, Walter E. Washington Convention Center, and The Park at 14th.
Valet is located at Hotel front.
1/3
How to Park
1.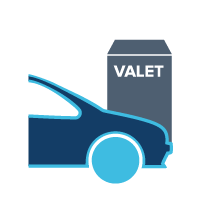 Present parking pass to valet at curbside kiosk in exchange for valet-ticket
2.
If attendant is not at kiosk, please wait as they are parking another vehicle and will return shortly
3.
When you return, present valet-ticket to attendant (tip not included in reservation)