Select the start time and end time
for your booking here.
1850 K St. NW.
International Square Garage
About This Facility
Secure and affordable indoor parking at the International Square in downtown, Washington, D.C. Just a short walk to the Lisner Auditorium, Jack Morton Auditorium, and Charles E. Smith Athletic Center.
1/2
How to Park
1.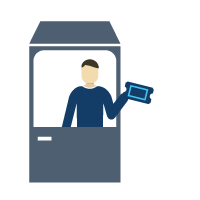 Upon arrival, please show your parking pass to the cashier located on B1