Select the start time and end time
for your booking here.
1447 Ocean Ave.
Ocean View Hotel - Valet Kiosk
About This Facility
This is valet parking for the Ocean View Hotel. The Hotel takes up a small portion of the block, with a three-story off-white building on one side, and the "U"-shaped, 15-story white-colored Pacific Plaza on the other. The Ocean View Hotel is a four-story beige-colored building with a prominent teal and blue sign that reads the hotel name, above a greenish awning. Look for a vertical sign facing oncoming traffic that reads "Parking" in large white letters; please pull into the driveway next to it and hail a valet.
1/4
How to Park
1.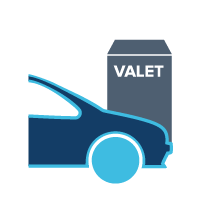 Present parking pass to valet at curbside kiosk in exchange for valet-ticket
2.
If attendant is not at kiosk, please wait as they are parking another vehicle and will return shortly
3.
When you return, present valet-ticket to attendant (tip not included in reservation)