Select the start time and end time
for your booking here.
1160 Raymond Blvd.
1160 Raymond Blvd. Garage
About This Facility
Home to the Newark campus of Rutgers, this neighborhood also serves as the center of Newark's Arts District, including the Newark Museum, which is New Jersey's largest. Tour an exciting new exhibit or enjoy a stroll through Military Park. (The mighty New Jersey Performing Arts Center is just across the street!) You're also within walking distance of both Penn Station and the Newark Broad Street station stop.
Max Vehicle Height: 6'6"
1/11
Operated by Edison ParkFast
How to Park
1.
Take a ticket as you enter and pull forward to where instructed
2.
Show pass to the attendant
3.
The attendant will confirm your reservation and valet park your vehicle. Be sure to take the ticket you received with you when exiting the facility
4.
Upon departure show the attendant your ticket and pass
5.
Any additional fees incurred (oversize vehicle charges or any additional time outside of your prepaid parking reservation) must be paid before the attendant retrieves your vehicle
6.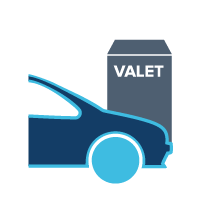 After the attendant retrieves your vehicle you're ready to go