Select the start time and end time
for your booking here.
140 W. 62nd St.
SP+ 140 W. 62nd St. Garage
About This Facility
Convenient underground self-parking garage for The Lincoln Center in the Upper West Side. Offers easy access to The Metropolitan Opera and Julliard; just a short walk to the Beacon Theatre and Carnegie Hall.
Luxury and exotic vehicles are subject to availability.
Please enter the garage at one of the following locations: 140 West 62nd Street: Open 24/7 150 West 65th Street: 5AM-8PM daily 85 Amsterdam Avenue: Open 5AM-12AM daily
1/5
How to Park
1.
To enter, press the BLUE button on the ticket dispenser and collect the ticket that is dispensed.
2.
Self-park at the most convenient area for your visit.
3.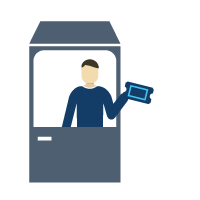 To exit, present parking pass and entry ticket to cashier in exchange for an exit ticket