Select the start time and end time for your booking here.
76 E. Monroe St.
University Club of Chicago
1/4
Operated by American Parking Services
User Ratings
This location offers a valet service to secure garage storage in the Loop. Walking distance to the Millenium Park, the Art Institute of Chicago and for shopping on State St. Please note that parking at this location is for University Club patrons only.
How to Park
1.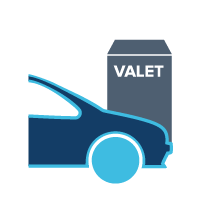 Present parking pass to valet at curbside kiosk in exchange for valet-ticket
2.
If attendant is not at kiosk, please wait as they are parking another vehicle and will return shortly
3.
When you return, present valet-ticket to attendant (tip not included in reservation)