Select the start time and end time
for your booking here.
127 W. Huron St.
The Godfrey Hotel - Valet Kiosk
About This Facility
This is valet parking at the Club Godfrey Hotel. Located conveniently in River North, this location is just a short walk from Water Tower Place, Lookingglass Theatre, and the Museum of Contemporary Art.
1/4
Operated by American Parking Services
How to Park
1.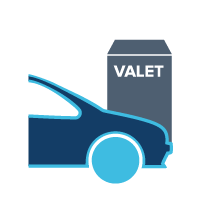 Present parking pass to valet at curbside kiosk in exchange for valet-ticket
2.
If attendant is not at kiosk, please wait as they are parking another vehicle and will return shortly
3.
When you return, present valet-ticket to attendant (tip not included in reservation)