Select the start time and end time
for your booking here.
102 N. Wabash Ave.
Macy's - Valet Kiosk
About This Facility
Well-run valet parking at Macy's in downtown Chicago. Drivers love the ease of access and efficient service. Just a short walk to the Chicago Cultural Center, James R Thompson Center, The Chicago Theatre, and Harris Theater.
Firearms are not permitted. The operator reserves the right to refuse any vehicle containing firearms or ammunition.
💲💲 Please park within the timeframe on your pass. Parking outside your timeframe will incur additional on-site fees.
Max Vehicle Height: 6'8"
1/3
Operated by Valet Parking Authority
How to Park
1.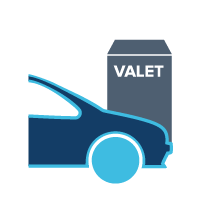 Present parking pass to valet at curbside kiosk in exchange for valet-ticket
2.
If attendant is not at kiosk, please wait as they are parking another vehicle and will return shortly
3.
When you return, present valet-ticket to attendant (tip not included in reservation)