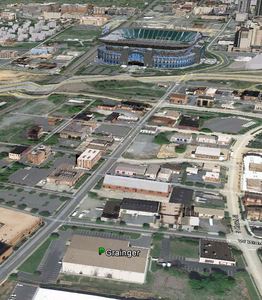 Grainger Lot
1401 S. Mint St.

,

Charlotte

,

NC

28203
Sold Out!

$22.00 per spot

Amenities Included:

Upon entry, please show printed or downloaded parkwhiz pass to Preferred Parking Attendant. Attendant will issue a Preferred Parking ticket for display in your vehicle while parked. In the instance there is no attendant, please display printed pass or 6-digit ParkWhiz pass number for downloaded passes on dash while parked. If multiple spaces have been purchased for tailgating, ALL Valid passes must be displayed.

Price Advisory Due to high demand this parking may cost more than drive-up rates, but ParkWhiz guarantees you will have a spot when you get there.
Description
This is the surface parking location around the Grainger Industrial Supply Store at the corner of Mint and Bland Streets.

Managed by Preferred Parking Service. This location is a business.
Nearby destinations: Amos' Southend.
Directions
This is the parking lot surrounding the Grainger Industrial Supply store at the corner of Mint and Bland. From Northbound Mint Street parkers will take the last right into the lot before reaching Bland Street. From Southbound Mint parkers will take the first left into the location after crossing over Bland Street. From Westbound Bland Street, parkers will take the last left into the location before reaching Mint Street.