Select the start time and end time
for your booking here.
97 Dekalb Ave.
Brooklyn Hospital Center Lot
About This Facility
Easy and budget-friendly parking for the Brooklyn Hospital Center in downtown Brooklyn. This location is only one block from the Fort Greene Park and minutes away from the Barclays Center.
If parking overnight, you must drop off and pick up your vehicle within the following hours: Mon-Fri 4:30PM-11PM, Sat-Sun 12:30AM-11:30PM.
Garage Phone No: (718) 250-8219
1/3
How to Park
1.
Pull ticket at gate to enter and park in any spot not marked "Reserved"
2.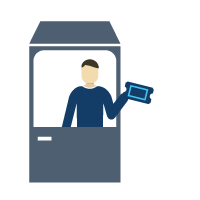 Immediately after parking, see the booth attendant to exchange your parking pass and entry ticket for an exit ticket
3.
Upon departure, insert your validated exit ticket