Select the start time and end time
for your booking here.
182 Schermerhorn St.
Edison ParkFast - 182 Schermerhorn St. Lot
About This Facility
Convenient and affordable surface lot in Boerum Hill. Just a few minutes to the Mark O'Donnell Theater, Invisible Dog Art Center, and Pfizer Auditorium.
💲💲 Any vehicle taller than 70" or wider than 86" will be considered an Oversized Vehicle. This includes any aftermarket modifications. Charges for any vehicle will depend upon overall length. You must select the corresponding add-on fee for your vehicle type during checkout; otherwise, you will be subject to an additional fee onsite.
1/4
Operated by Edison ParkFast
How to Park
1.
Take a ticket as you enter and pull forward to where instructed
2.
Show pass to the attendant
3.
The attendant will confirm your reservation and valet park your vehicle. Be sure to take the ticket you received with you when exiting the facility
4.
Upon departure show the attendant your ticket and pass
5.
Any additional fees incurred (oversize vehicle charges or any additional time outside of your prepaid parking reservation) must be paid before the attendant retrieves your vehicle
6.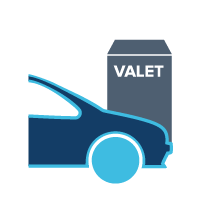 After the attendant retrieves your vehicle you're ready to go