Select the start time and end time
for your booking here.
450 Summer St.
Omni Boston Hotel at the Seaport - Valet Kiosk
About This Facility
Convenient and well-run valet parking at Omni Boston Hotel at the Seaport in Seaport District. Just a few minutes from Boston Fire Museum, MFA Museum, and Boston Tea Party Ships & Museum.
Every customer needs to pull into the hotel driveway and get a ticket from the staff, then proceed to the 3rd floor for valet.
1/4
How to Park
1.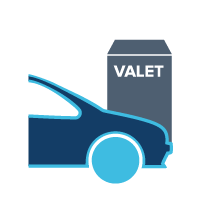 Present parking pass to valet at cubrside kiosk in exchange for valet ticket
2.
If attendant is not at kiosk, please wait as they are parking another vehicle and will return shortly.
3.
When you return, present your parking pass and valet ticket to attendant.