Select the start time and end time
for your booking here.
Fine Airport Covered Parking
VIEW IN MAP
TOTAL
*All taxes & fees included
---
Continue to confirm your booking.
Easy Cancellation
Fine Airport Covered Parking
5950 N. Jackson Gap Way Aurora, CO 80019
Parking total:
*All taxes & fees included
Location Overview
1/5
Operated by Fine Airport Parking - Covered & Uncovered
Getting to the Terminal
Get picked up in the indoor garage at your vehicle. The shuttle driver will present you with a wallet sized locator slip that will help us find your car when you return.
Returning to Your Car
Upon returning from your trip, you will need to exit out of the baggage claim area on level 5, door 513 EAST SIDE or 504 WESTSIDE, then proceed to lane 5 to the area marked as off-airport parking. FINE shuttles can only pick up in this designated area. Please tell the shuttle driver that you parked indoor and we will take care of the rest! Let the shuttle driver know where you parked the vehicle and hand them your locator slip.
Please note FINE shuttles rotate through DIA 24/7.
About This Facility
Fine Airport Parking is the only facility with angled parking and largest spaces available making it easier to pull into a spot. With free EV Charging Stations available, auto detail packages for valet service, and a wide array of amenities for all parkers. Also provides reliable 24/7 shuttle services to ensure arrival at terminals in a timely fashion.
How to Park
1.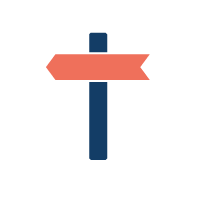 Follow signs to the "Indoor" lane
2.
Scan parking pass at entry gate
3.
Park in any space not marked "Reserved"
4.
Scan parking pass at entry gate