MCCORMICK PLACE PARKING
Your space is waiting.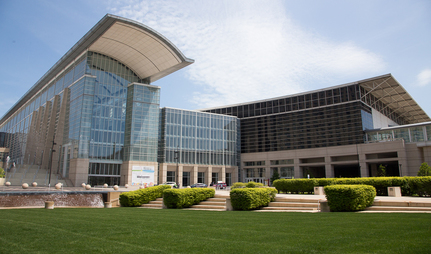 2301 S. Lake Shore Drive, Chicago, IL, 60616
Book now and spend more time on the fun.
BROWSE ALL EVENTS
About McCormick Place
At first blush, all convention centers are the same; places full of winding hallways, conference rooms and a general feeling of being dwarfed by the size of the place. Chicago's McCormick Place proves that notion wrong by not only being the largest convention center in the United States, but actively defending that title by adding additional buildings. The result is that the largest events in the country are held at McCormick Place, making it imperative to book accessible McCormick Place parking ahead of time.
"Massive" is not a word that is thrown around often with literal meaning, but it fits the McCormick Place convention center perfectly. Consisting of four already-huge buildings, they collectively contain 1.3 million square feet on one level, 170 meeting rooms, 2.6 million square feet of exhibition halls, the 4,249-seat Arie Crown theater, three additional 300-seat theaters, six ballrooms and 600,000 square feet of space for meetings. With interconnections and walkways between the buildings and a connection to the Hyatt Regency McCormick Place, a convention-goer could spend the entire day in McCormick Place without venturing outside. The McCormick Place is the annual home of the Chicago Auto Show, as well as the conventions of the National Restaurant Association and International Home and Housewares Show. McCormick Place also hosted the 2012 NATO Summit in Chicago, and the Election Night Rally for President Obama's 2012 campaign.
The history of McCormick Place can be traced to its namesake, Robert R. McCormick, longtime owner and publisher of the Chicago Tribune from the 1920s up until his death in the early 1950s. In the years before he passed away, McCormick began to promote the idea of building a large, permanent convention center for Chicago, a feat that was last attempted for the 1933 Century of Progress Exhibition. Plans for the convention center were in place while McCormick was alive, but construction began and was completed after his death, opening in November 1960. Over time, more buildings were added to the complex, most recently in 2007 with the 470,000 square foot West Building. Even with all this space, it can still get quite crowded for popular events such as the Chicago Auto Show. Due to this, it's best to book a McCormick Center parking space ahead of time with ParkWhiz.
ParkWhiz is easy to use; all you need to do is find McCormick Place parking on the site, book your McCormick Center parking spot, print out your ParkWhiz parking pass (or use your mobile pass) and enjoy the convention!
Chicago Parking near other popular destinations:
DISCOVER
AMAZING
SPACES
Find parking anywhere, for now or for later
Compare prices & pick the place that's best for you
Find parking anywhere, for now or for later
Compare prices & pick the place that's best for you
RESERVE
PREPAY
& SAVE
Book a space in just a few easy clicks
Save up to 50% off standard rates
Book a space in just a few easy clicks
Save up to 50% off standard rates
DRIVE
ARRIVE
& PARK
Enter easily with your mobile parking pass
Your space is waiting – pull in and go do your thing
Enter easily with your mobile parking pass
Your space is waiting – pull in and go do your thing
GET TO KNOW US
BETTER FOR BUSINESS
LET US HELP YOU
WE'RE SOCIAL
USA