LYRIC OPERA OF CHICAGO PARKING
Your space is waiting.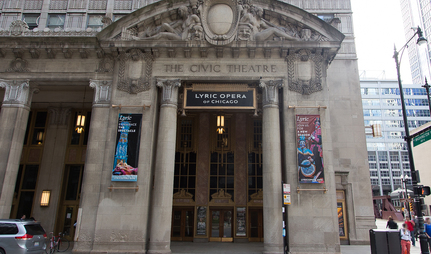 20 N. Wacker Dr., Chicago, IL, 60606
Book now and spend more time on the fun.
BROWSE ALL EVENTS
About Lyric Opera of Chicago
The Chicago Loop is an incredibly busy place, with traffic speeding by, money to be made and people to be seen, and in the case of the Lyric Opera, people to be heard. The fact that a world-famous Opera House is located within this small area has its plusses and minuses; it is much easier to get to for people who work in its environs already, but for everyone else commuting to the city, it is much harder to find Lyric Opera parking spaces. Located at the Civic Opera House on Wacker Drive south of the confluence of the Chicago River's branches, the Lyric Opera has been providing entertainment and musical splendor to Chicago since 1954. In the recent past, some productions have been such shows as Susannah, Sweeney Todd, Doctor Atomic, and the Great Gatsby. These shows are incredibly popular, and with around 3,500 seats, it is often hard to find parking near the Lyric Opera. If you plan ahead, you can book Lyric Opera parking in advance with ParkWhiz, so you don't have to worry in the least!
The Lyric Opera is a rather popular venue, so much that the attendance averaged around 100% between 1988-2002, and over 90% up to the present following that period. The structure itself is impressive, designed by the famous architectural firm Graham, Anderson, Probst & White. One of the most famous movies of all time, Citizen Kane, included an opera house inspired by the Civic Opera House. With a theme harkening back to Ancient Greece and Rome, the edifice is easily identifiable with classical columns and statues on the outside. Inside the lobby are gold leaf-girdled columns, illuminated chandeliers and the kind of ambiance that only an art-deco building can deliver. The auditorium itself shines with gold the color of a noonday sun, muted dark orange seats and a lavish red curtain.
The famous opera singer Carl Fox made her home at the Lyric Opera from 1954-80, always pressing the theatre and its performers for the highest quality of work and artistry. The Chicago Loop has only gotten busier as the years have gone on, making it much harder to find parking as the glass and concrete jungle grows ever-higher. Luckily, you can book a Lyric Opera parking space before the show with ParkWhiz, so you can enjoy the show rather than worry about parking.
ParkWhiz makes it easy to find Chicago Lyric Opera parking; select the show that you need Chicago Lyric parking for, what time you want to park at Lyric Opera of Chicago on the event date, print out your Chicago Lyric Opera parking pass (or use your mobile pass) and enjoy the show!
DISCOVER
AMAZING
SPACES
Find parking anywhere, for now or for later
Compare prices & pick the place that's best for you
Find parking anywhere, for now or for later
Compare prices & pick the place that's best for you
RESERVE
PREPAY
& SAVE
Book a space in just a few easy clicks
Save up to 50% off standard rates
Book a space in just a few easy clicks
Save up to 50% off standard rates
DRIVE
ARRIVE
& PARK
Enter easily with your mobile parking pass
Your space is waiting – pull in and go do your thing
Enter easily with your mobile parking pass
Your space is waiting – pull in and go do your thing
GET TO KNOW US
BETTER FOR BUSINESS
LET US HELP YOU
WE'RE SOCIAL
USA