INDIANA CONVENTION CENTER PARKING
Your space is waiting.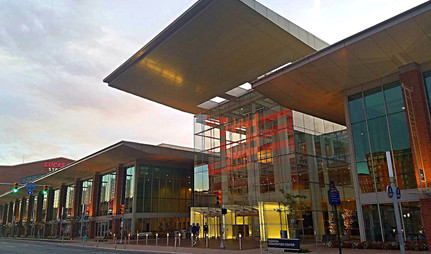 100 S. Capitol Ave., Indianapolis, IN, 46225
Book now and spend more time on the fun.
BROWSE ALL EVENTS
About Indiana Convention Center
Convention centers are a dime a dozen, and due to that they often need some way to be unique. The Indiana Convention Center does this through size; not only was it recently expanded, but this new building connects to the Lucas Oil Stadium, home of the Indianapolis Colts. Despite its great amount of space, finding Indiana Convention Center parking can be difficult, especially due to the Colts stable right next door, so it is best to book Indiana Convention Center parking in advance when you're heading to Indianapolis.
The Indiana Convention Center first opened to the public in 1972 with three exhibition halls, but the complex has since been expanded four times, taking up six city blocks. Currently, the convention center offers 566,000 sq. feet of space for exhibits, along with 71 meeting rooms, three ballrooms and skywalk connections to hotel rooms. The first expansion occurred in 1983, and connected the complex to the then-new RCA Dome, and added two more exhibit halls. The most recent addition took place starting in 2006. This expansion first involved building Lucas Oil Stadium, followed by the demolition of the RCA Dome, both in 2008. A new convention center building was constructed upon the site of the demolished stadium, which was then connected to the stadium through an underground walkway.
In 2012, the convention center helped host Super Bowl XLVI in the nearby stadium. Additional past events include two instances of the Star Wars Celebration convention and the 1987 Pan American Games' boxing events.  Additionally, it is the annual host of gaming convention Gen Con. Depending on the event, Indiana Convention Center parking may be hard to find, so booking Indianapolis Convention Center parking spaces with ParkWhiz is the best way to get to the show.
ParkWhiz makes it easy to find Indianapolis Convention Center parking; select the event that you need Indiana Convention Center parking for, print out your Indianapolis Convention Center parking pass (or use your mobile pass) and enjoy!
Photo by Momoneymoproblemz (Own work) [GFDL (http://www.gnu.org/copyleft/fdl.html) or CC BY-SA 4.0 (http://creativecommons.org/licenses/by-sa/4.0)], via Wikimedia Commons
DISCOVER
AMAZING
SPACES
Find parking anywhere, for now or for later
Compare prices & pick the place that's best for you
Find parking anywhere, for now or for later
Compare prices & pick the place that's best for you
RESERVE
PREPAY
& SAVE
Book a space in just a few easy clicks
Save up to 50% off standard rates
Book a space in just a few easy clicks
Save up to 50% off standard rates
DRIVE
ARRIVE
& PARK
Enter easily with your mobile parking pass
Your space is waiting – pull in and go do your thing
Enter easily with your mobile parking pass
Your space is waiting – pull in and go do your thing
GET TO KNOW US
BETTER FOR BUSINESS
LET US HELP YOU
WE'RE SOCIAL
USA