COMERICA PARK PARKING
Your space is waiting.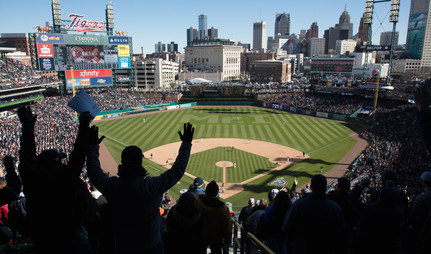 2100 Woodward Ave, Detroit, MI, 48201
Book now and spend more time on the fun.
BROWSE ALL EVENTS
About Comerica Park
Comerica Park is home to the Detroit Tigers and one of the most incredible stadiums in the country. Beyond baseball, the stadium also hosts concerts and special events. ParkWhiz makes it easy to reserve parking at Comerica Park for fans heading to the stadium throughout the summer.
This venue opened in 2010 and houses many features that are attractive to visitors of all ages, including the unique sculptures that capture the essence of some of the greatest Tigers in action – Ty Cobb, Charlie Gehringer, Hank Greenberg, Willie Horton, Al Kaline and Hal Newhouse. There's a carousel, ferris wheel, mammoth water feature in center field that can be choreographed to any music. a decade-by-decade pedestrian museum enveloping the main concourse for fans to take in during a visit.
Comerica Park, along with Ford Field, anchors District Detroit's Wildcat Corner. This unique setting is where fans come first. Celebrating baseball and football, the neighborhood is home to an authentic experience like few other places in the nation. On game day, Adams Street morphs into party central as fans, decked out in team colors, fill the street – relaxing, celebrating and cheering on the home team.
ParkWhiz makes booking your Comerica Park parking space simple and efficient. When heading to the stadium, reserving parking with the ParkWhiz app is a home run. Your space will be waiting, allowing you to focus on having a great time rather than dealing with the headaches of seeking parking when you arrive.
Detroit parking at other popular destinations:
Parking at other MLB stadiums:
DISCOVER
AMAZING
SPACES
Find parking anywhere, for now or for later
Compare prices & pick the place that's best for you
Find parking anywhere, for now or for later
Compare prices & pick the place that's best for you
RESERVE
PREPAY
& SAVE
Book a space in just a few easy clicks
Save up to 50% off standard rates
Book a space in just a few easy clicks
Save up to 50% off standard rates
DRIVE
ARRIVE
& PARK
Enter easily with your mobile parking pass
Your space is waiting – pull in and go do your thing
Enter easily with your mobile parking pass
Your space is waiting – pull in and go do your thing
GET TO KNOW US
BETTER FOR BUSINESS
LET US HELP YOU
WE'RE SOCIAL
USA