CHICAGO SYMPHONY ORCHESTRA PARKING
Your space is waiting.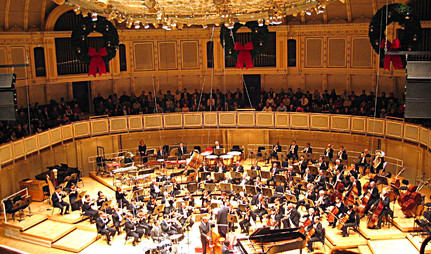 220 S. Michigan Ave., Chicago, IL, 60603
Book now and spend more time on the fun.
BROWSE ALL EVENTS
About Chicago Symphony Orchestra
Located across the street from the Art Institute of Chicago, and within walking distance of Grant Park and Lake Shore Drive, the Chicago Symphony Orchestra is one of the highlights of the city. The Chicago Symphony Orchestra is based in the aptly-named Chicago Symphony Center. It may be difficult to find Chicago Symphony Orchestra parking unless you book it ahead of time, due to the enduring popularity and its home venue being located in the heart of the Loop.
The Chicago Symphony Orchestra is a prized possession of Chicago, a jewel whose beauty can only be experienced through a live performance. The Chicago Symphony Orchestra was founded in 1891 by Charles Norman Fay and Theodore Thomas, with the organization originally titled as the "Chicago Orchestra." First based in the Auditorium Theatre, the orchestra began to tour soon after, even visiting New York and Boston, with concert aficionados filling the Chicago Symphony Orchestra parking lot. The CSO is considered one of the "big five" American orchestras, which include the New York Philharmonic, the Boston Symphony Orchestra and the Philadelphia and Cleveland Orchestras.
In 1904, famous Chicago architect Daniel Burnham designed Orchestra Hall, a building meant only to house the nascent Chicago Orchestra. Opening in 1905, the structure is the central component of a complex that is now titled the Symphony Center. The Orchestra obtained its current name in 1913. The Chicago Symphony Orchestra has stayed in Orchestra Hall since 1905, but began spending the summer at Ravinia Park in Highland Park for the Ravinia Festival, a practice which continues to this day, though it is advisable to book CSO Chicago parking before a CSO event in Ravinia.
A vast number of recordings have been produced in Orchestra Hall, and the CSO has received several Grammy awards in response, especially from 1960 through 2010. The Orchestra has continued to be extremely popular, enough that it is hard to find Chicago Symphony Orchestra parking, especially in the Chicago Loop, so booking Symphony Center Chicago parking spaces with ParkWhiz is the best way to get to the show.
You don't have to look around much to find Chicago Symphony parking on ParkWhiz; pick out which concert that you'll need Chicago Symphony Center parking for, print out your Symphony Center Chicago parking pass (or use your mobile pass) and enjoy the Chicago Symphony Orchestra!
DISCOVER
AMAZING
SPACES
Find parking anywhere, for now or for later
Compare prices & pick the place that's best for you
Find parking anywhere, for now or for later
Compare prices & pick the place that's best for you
RESERVE
PREPAY
& SAVE
Book a space in just a few easy clicks
Save up to 50% off standard rates
Book a space in just a few easy clicks
Save up to 50% off standard rates
DRIVE
ARRIVE
& PARK
Enter easily with your mobile parking pass
Your space is waiting – pull in and go do your thing
Enter easily with your mobile parking pass
Your space is waiting – pull in and go do your thing
GET TO KNOW US
BETTER FOR BUSINESS
LET US HELP YOU
WE'RE SOCIAL
USA