CHARLES PLAYHOUSE PARKING
Your space is waiting.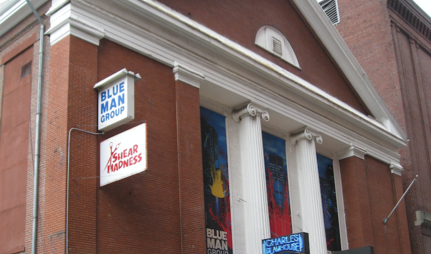 74 Warrenton St., Boston, MA, 02116
Book now and spend more time on the fun.
BROWSE ALL EVENTS
About Charles Playhouse
You can find the Charles Playhouse listed on the U.S. National Register of Historic Places, and for good reason. If you were headed to the Warrenton Street, Boston, building before 1958, it wouldn't have been for Charles Playhouse parking. The brick structure has served as a church, a synagogue and a speakeasy.
The structure really found its knack as a playhouse, catalyzing the "regional theatre movement." These were prominent venues that began offering quality performance outside of the dominant Broadway. Some of these alternatives, including the Charles Playhouse, held their own at the outset and continue to live on today. Now settled in as a theater site, it presents two rock solid productions: The timeless drama, "Shear Madness" and the wacky "Blue Man Group."
Still playing strong, Shear Madness is one of the oldest nonmusical plays on the globe. It's put on over 13,000 performances as it continues on in its 34th year since inception. The murder mystery relies on improvisation and includes audience members grilling the actors as the enigma unfolds. The conclusion changes from night to night, infusing a spontaneous flavor to the play that keeps customers coming back for Shear Madness parking year after year.
The Blue Man Group isn't exactly formulaic either. What the Blue Men do on stage and why they do it is anyone's guess. You're going to see bright colors and lots of odd mechanisms and instruments probably not sitting in your tool shed. The actors would appreciate extending the out-of-the-box attitude toward your Blue Man Group parking.
Boston parking at other popular destinations:
DISCOVER
AMAZING
SPACES
Find parking anywhere, for now or for later
Compare prices & pick the place that's best for you
Find parking anywhere, for now or for later
Compare prices & pick the place that's best for you
RESERVE
PREPAY
& SAVE
Book a space in just a few easy clicks
Save up to 50% off standard rates
Book a space in just a few easy clicks
Save up to 50% off standard rates
DRIVE
ARRIVE
& PARK
Enter easily with your mobile parking pass
Your space is waiting – pull in and go do your thing
Enter easily with your mobile parking pass
Your space is waiting – pull in and go do your thing
GET TO KNOW US
BETTER FOR BUSINESS
LET US HELP YOU
WE'RE SOCIAL
USA