CAPITAL ONE ARENA PARKING
Your space is waiting.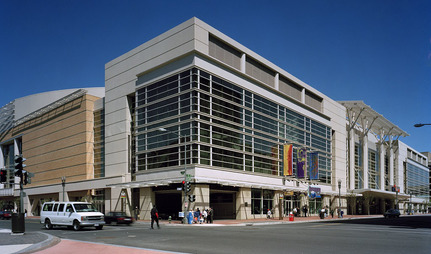 601 F St. NW, Washington, DC, 20004
Book now and spend more time on the fun.
BROWSE ALL EVENTS
About Capital One Arena
Located in the heart of Washington, D.C.'s Chinatown, the Captial One Arena hosts a multitude of sports, concerts, and events. For basketball alone, it's home to the Wizards, the Mystics, and the Georgetown Hoyas. When ice covers the court, you're more likely to hear the crowd chant "Let's go Caps!" as the Capitals own the rink. Performers like Ariana Grande, Taylor Swift, and Adele often sell out the 20,000 seat arena, bringing in fans from across the DC Metro area. Wouldn't it be great if you could skip the lines of local traffic and avoid the stress of Captial One Arena parking? Let ParkWhiz take care of it for you!
Built in December of 1997, the Captial One Arena was first named the MCI Center. It later earned the nickname "the Phone Booth" when another telecommunications company took on ownership and it was renamed the Verizon Center. A true leader in technology through and through, it was the first arena to have a high-definition LED scoreboard inside, scoring this new tech in 2007. It was renamed Captial One Arena in 2017.
Using ParkWhiz, Capital One Arena parking is as easy as a goal for the Caps in the third period! With ParkWhiz, you can reserve your spot and breathe easy as you slide into the perfect place, even if the game is about to start or the opening act is about to play! At ParkWhiz, we pride ourselves on making parking an experience as fun as a basketball game with your family -- and the Wizards!
Washington DC parking at other popular destinations:
DISCOVER
AMAZING
SPACES
Find parking anywhere, for now or for later
Compare prices & pick the place that's best for you
Find parking anywhere, for now or for later
Compare prices & pick the place that's best for you
RESERVE
PREPAY
& SAVE
Book a space in just a few easy clicks
Save up to 50% off standard rates
Book a space in just a few easy clicks
Save up to 50% off standard rates
DRIVE
ARRIVE
& PARK
Enter easily with your mobile parking pass
Your space is waiting – pull in and go do your thing
Enter easily with your mobile parking pass
Your space is waiting – pull in and go do your thing
GET TO KNOW US
BETTER FOR BUSINESS
LET US HELP YOU
WE'RE SOCIAL
USA