BUSCH STADIUM PARKING
Your space is waiting.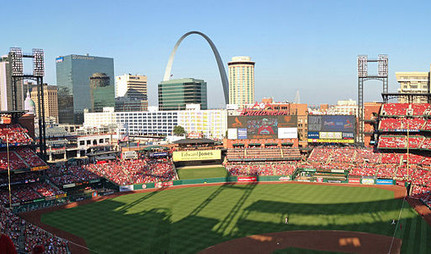 700 Clark Ave, St. Louis, MO, 63102
Book now and spend more time on the fun.
BROWSE ALL EVENTS
About Busch Stadium
In baseball, a team can be "good" or "great," but rarely does the team not only knock it out of the park, but so does the stadium. The case of the St. Louis Cardinals and Busch Stadium is an example of one of those rarities, featuring not only a storied, successful team but also a beautiful, nostalgic stadium that consistently sells out. Occasionally the fans can be a victim of their team's success, making it difficult to find Busch Stadium parking. Opening in 2006 to replace the aging Busch Memorial Stadium, Busch Stadium was designed by the architectural firm Populous, and built for $365 million dollars. The senior project designer, Jib Chibnall, also designed Heinz Field, Jacobs Field and several other public spaces around the world. With a capacity of around 46,800, Busch Stadium has the ninth largest capacity of all baseball stadiums in the US. Busch has consistently beat attendance records; in its opening year, it had a total season attendance of 3,407,104, which was pushed even higher later on. With that many people showing up and its location in downtown St. Louis, it is hard to find Cardinals parking. If you plan ahead and book a Busch Stadium parking spot with ParkWhiz before the game, you can watch the Cardinals, rather than watch the vultures circle around a St. Louis parking lot.
The current Busch Stadium in St. Louis is the third incarnation of a stadium with that name. The first Busch Stadium was built in 1902 and referred to as Sportsman's Park before being named Busch Stadium as a homage to Gussie Busch, a businessman who owned the Anheuser-Busch brewing company and President of the Cardinals. After the first stadium was demolished in 1966, the Cardinals moved into a second stadium, Busch Memorial, until that was demolished in 2005 and they moved into the current stadium. Across the street from the current stadium, the site of Busch Memorial is being re-worked into a project called Ballpark Village, which will hold residential and commercial properties.
The St. Louis Cardinals have an even longer pedigree than the various Busch Stadiums, having been in existence in one form or another since 1882. The team has been incredibly successful, the Cardinals parking themselves into history by winning the World Series in 1926, 1931, 1934, 1942, 1944, 1946, 1964, 1967, 1982, 2006 and 2011. Since 2004, each season has home attendance totals over three million, giving them a league rank that is typically within the top five. In 2013, Forbes did a valuation of the Cardinals, ranking them at $716.2 million, 327% as valuable as they were in 2000, when they were worth $219 million. No matter their success, the Cardinals can't solve one of the major gripes of their devoted fans: Busch Stadium parking. The only way around the headache of finding a parking spot in a full lot is to book your Cardinals parking space ahead of time with ParkWhiz.
A wise Cards fan will book a Cardinals parking spot before the game, saving them time and embarrassment. All you have to do is go to the ParkWhiz website, find the game you want, book your Busch Stadium parking spot and print your parking pass. When you bring your trusty ParkWhiz parking pass with you, you can enjoy an Anheuser-Busch beer of your own in the comfort of the Stadium.
Photos by Fredlyfish4 (Own work) [CC BY-SA 3.0 (http://creativecommons.org/licenses/by-sa/3.0)], via Wikimedia Commons
DISCOVER
AMAZING
SPACES
Find parking anywhere, for now or for later
Compare prices & pick the place that's best for you
Find parking anywhere, for now or for later
Compare prices & pick the place that's best for you
RESERVE
PREPAY
& SAVE
Book a space in just a few easy clicks
Save up to 50% off standard rates
Book a space in just a few easy clicks
Save up to 50% off standard rates
DRIVE
ARRIVE
& PARK
Enter easily with your mobile parking pass
Your space is waiting – pull in and go do your thing
Enter easily with your mobile parking pass
Your space is waiting – pull in and go do your thing
GET TO KNOW US
BETTER FOR BUSINESS
LET US HELP YOU
WE'RE SOCIAL
USA