BRIDGESTONE ARENA PARKING
Your space is waiting.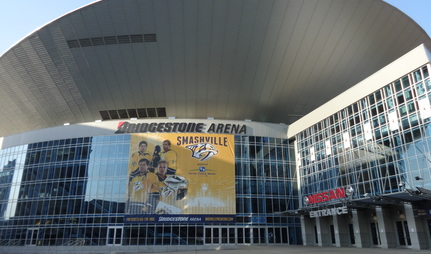 501 Broadway, Nashville, TN, 37203
Book now and spend more time on the fun.
BROWSE ALL EVENTS
Want Series or Season Parking Passes?
FIND PARKING PACKAGES
About Bridgestone Arena
The Nashville Predators reside in the Bridgestone Arena, a facility that opened in December of 1996. It was variously known as the Nashville Arena, Gaylord Entertainment Center and Sommet Center before the naming rights were purchased by Bridgestone in 2010. In addition to ice hockey, the arena also functions as a venue for concerts and WWE. These events attract a large number of guests, making it hard to find Bridgestone Arena parking. In addition to the WWE, it has hosted the CMA Awards, the CMT Music Awards, men's and women's SEC and OVC basketball tournaments and bull riding. Musical guests include Billy Joel, the Rolling Stones, Motley Crue, Aerosmith, Miley Cyrus, Muse, Taylor Swift and more.
The Bridgestone Arena was renovated in 2007, including improvements to public areas, concession stands and the replacement of an obsolete scoreboard. While scoreboards and other equipment may become obsolete, parking lots will not. To be prepared, it is best to book your event or Predators parking spot in advance through ParkWhiz.
The Nashville Predators came into being in 1997, when businessman Craig Leipold presented the idea of a Nashville-area hockey team to the NHL. In June of that year, the franchise was granted, and because of an NHL-ready arena, the Preds were ready to go. The young franchise has yet to lift a Stanley Cup.
The team's name comes from a Smilodon (saber-toothed tiger) skeleton that was found under Nashville in 1971 during excavations for a bank. No matter what event you are attending at the Bridgestone Arena, whether it be to see the Predators parking the puck into the goal or a thrilling WWE Smackdown, it is never good to be late, especially because of parking. It's always best to plan ahead, and by making use of ParkWhiz, you can book a Bridgestone Arena parking spot in advance, saving time and frustration.
ParkWhiz is as efficient as a Smilodon and as fun as listening to a concert at the Grand Ole Opry. All you need to do is find your event, book your Bridgestone Arena parking spot and print your parking pass. When you bring your ParkWhiz parking pass with you, all you have to do is relax and enjoy the event.
Photo by Michael Rivera (Own work) [CC BY-SA 4.0 (http://creativecommons.org/licenses/by-sa/4.0)], via Wikimedia Commons
DISCOVER
AMAZING
SPACES
Find parking anywhere, for now or for later
Compare prices & pick the place that's best for you
Find parking anywhere, for now or for later
Compare prices & pick the place that's best for you
RESERVE
PREPAY
& SAVE
Book a space in just a few easy clicks
Save up to 50% off standard rates
Book a space in just a few easy clicks
Save up to 50% off standard rates
DRIVE
ARRIVE
& PARK
Enter easily with your mobile parking pass
Your space is waiting – pull in and go do your thing
Enter easily with your mobile parking pass
Your space is waiting – pull in and go do your thing
GET TO KNOW US
BETTER FOR BUSINESS
LET US HELP YOU
WE'RE SOCIAL
USA