WELLS FARGO CENTER PARKING
Your space is waiting.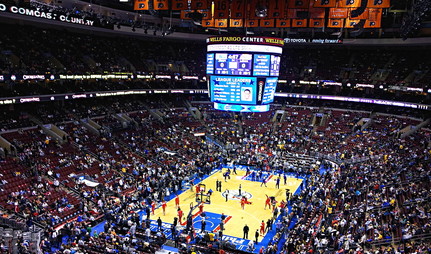 3601 S. Broad St., Philadelphia, PA, 19148
Book now and spend more time on the fun.
BROWSE ALL EVENTS
About Wells Fargo Center
Both the Philadelphia 76ers and Flyers are teams with long histories and traditions and fans still flock to their games, making it hard to find Sixers parking spaces or Philadelphia Flyers parking spots on game day. Both teams are based at the Wells Fargo Center in Philadelphia. The venue is the fifth-largest arena in the NBA and fourth-largest in the NHL by capacity. In addition for being the home base for the 76ers and Flyers, the stadium hosts concerts, NCAA basketball and hockey, wrestling and UFC events.
The Philadelphia 76ers are one of the oldest teams in the NBA, founded as the Syracuse Nationals in 1946. The team's first owner, Danny Biasone, was the inventor of the shot clock. Before its development, there was lots of keep-away and passing back and forth, resulting in an unattractive style of play that hurt ratings and ticket sales. The shot clock was designed to counteract this by limiting the time needed for a shot, calculated at 24 seconds. This ended up being wildly successful.
The 76ers follow a pattern in their history - a long climb to the top with a championship, and then a slow decline before picking things up again. During their tenure, the Sixers won three championships, nine conference titles and five division titles. Wilt Chamberlain was instrumental in the 1966-'67 championship, while Julius Erving and Moses Malone worked to gain the 1982-'83 title.
Unlike the 76ers, the Flyers have been a force to be reckoned with from the beginning. Formed in 1967, the Flyers won two consecutive Stanley Cups in 1973-74 and 1974-75, along with eight conference championships and 16 division championships. Despite not winning a Stanley Cup since the 1970s, the team hasn't been taking it lying down, playing for the cup most recently in the 2009-10 season. Finding Philadelphia Flyers parking spaces or Sixers parking spots can be difficult, so booking Philadelphia Sixers parking spots in advance with ParkWhiz is the best solution.
ParkWhiz is easy; all you need to do is find the game that you want to see, book your Philadelphia Flyers hockey parking spot and print out your ParkWhiz parking pass. Once that's done, you can relax and enjoy the game, rather than trying to find parking at the Wells Fargo Center in Philadelphia.
Philadelphia parking at other popular destinations:
DISCOVER
AMAZING
SPACES
Find parking anywhere, for now or for later
Compare prices & pick the place that's best for you
Find parking anywhere, for now or for later
Compare prices & pick the place that's best for you
RESERVE
PREPAY
& SAVE
Book a space in just a few easy clicks
Save up to 50% off standard rates
Book a space in just a few easy clicks
Save up to 50% off standard rates
DRIVE
ARRIVE
& PARK
Enter easily with your mobile parking pass
Your space is waiting – pull in and go do your thing
Enter easily with your mobile parking pass
Your space is waiting – pull in and go do your thing
GET TO KNOW US
BETTER FOR BUSINESS
LET US HELP YOU
WE'RE SOCIAL
USA