GUARANTEED RATE FIELD PARKING
Your space is waiting.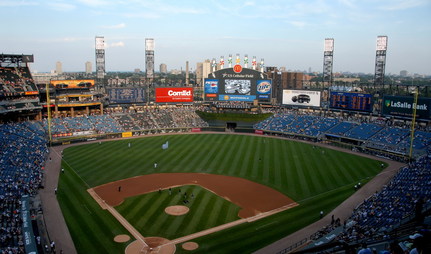 333 W. 35th St., Chicago, IL, 60616
Book now and spend more time on the fun.
BROWSE ALL EVENTS
About Guaranteed Rate Field
When it comes to sports, the City of Chicago is home to not just the
Cubs
,
Bears
and
Bulls
but also the White Sox, located at Guaranteed Rate Field in the South Side. The team is popular, so it's important to book convenient Guaranteed Rate Field parking spots with ParkWhiz, featuring on-site parking. The Sox did not originate in Chicago, but rather in Sioux City as the Cornhuskers in the Western League. After Charles Comiskey took over, the team was moved to Bridgeport in Chicago and dubbed the "White Stockings" as a reference to the original name of the Chicago Cubs. The Sox appeared at the World Series for the first time in 1906, where they beat the Cubs in four out of six games. The South Siders won a second World Series title in 1917, only to have its players burned by the Black Sox Scandal. After a difficult period in the middle of the century, the Sox reached the World Series in 1959, but winning only one game. The team hung on in Chicago despite several attempts to relocate, often blamed on the poor condition of the original Comiskey Park. Their fortunes were revived following the construction of US Cellular Field, now known as Guaranteed Rate Field. While the stadium underwent several modifications, the White Sox won the 2005 World Series over the Houston Astros. The Chi Sox continue to make strides in their performance, which can make it more difficult to find parking due to their popularity. The smart move is to book Guaranteed Rate Field parking on-site at the venue with ParkWhiz for complete convenience.
Chicago Parking for other Sporting Events:
Parking at other MLB stadiums:
DISCOVER
AMAZING
SPACES
Find parking anywhere, for now or for later
Compare prices & pick the place that's best for you
Find parking anywhere, for now or for later
Compare prices & pick the place that's best for you
RESERVE
PREPAY
& SAVE
Book a space in just a few easy clicks
Save up to 50% off standard rates
Book a space in just a few easy clicks
Save up to 50% off standard rates
DRIVE
ARRIVE
& PARK
Enter easily with your mobile parking pass
Your space is waiting – pull in and go do your thing
Enter easily with your mobile parking pass
Your space is waiting – pull in and go do your thing
GET TO KNOW US
BETTER FOR BUSINESS
LET US HELP YOU
WE'RE SOCIAL
USA