Select the start time and end time
for your booking here.
875 15th St. NW
Bowen Building Garage - Lot 618
About This Facility
Affordable parking at the Bowen Building located in downtown Washington. Just a few steps away from McPherson Square Station and a short walk to the National Theatre, Ford Theatre, and Warner Theatre.
At peak hours, your car may be valeted, or you may be asked to leave your keys with an attendant.
1/3
Operated by Colonial Parking
How to Park
1.
Upon arrival, show pass to attendant in exchange for exit ticket
2.
Park in any space not marked "reserved"
3.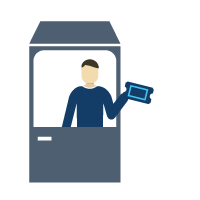 When leaving, show exit ticket and parking pass to attendant