Event Parking For
Nationals Park
February 1, 4:05 PM EST
Miami Marlins at Washington Nationals [Postponed due to COVID-19]
55 M St. SE.
Alley Entrance - 55 M St. SE. Garage - Lot 735
About This Facility
Secure and affordable indoor garage in Navy Yard. Just a few minutes to the Canal Park, Lansburgh Park, and Nationals Park.
At peak hours, your car may be valeted, or you may be asked to leave your keys with an attendant.
1/4
Operated by Colonial Parking
How to Park
1.
Pull entry ticket to enter the garage
2.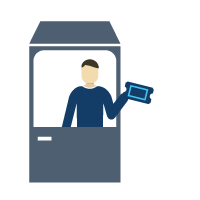 Bring your pass and entry ticket to the attendant's office, located on the first level to receive your exit ticket