Select the start time and end time
for your booking here.
2800 Pennsylvania Ave. NW
2800 Pennsylvania Ave. NW
Four Seasons DC - Valet Kiosk
About This Facility
This is valet parking at the Four Seasons Hotel. This parking garage is located in the Georgetown area with plenty of attractions. The entrance will have the signage "FOUR SEASONS HOTEL" located on the brick building. Drive down the cobble road until you see a down ramp with a black awning located above. This will take you to your destination.
1/2
How to Park
1.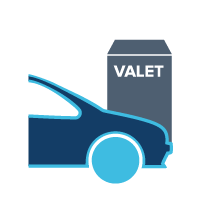 Present parking pass to valet at curbside kiosk in exchange for valet-ticket
2.
If attendant is not at kiosk, please wait as they are parking another vehicle and will return shortly
3.
When you return, present valet-ticket to attendant (tip not included in reservation)