Select the start time and end time
for your booking here.
2440 M St. NW
2440 M St. NW Garage - Lot 642
About This Facility
Secure and affordable indoor parking garage in West End. Just a few minutes to the Jack Morton Auditorium, Lisner Auditorium, and Charles E. Smith Center.
At peak hours, your car may be valeted, or you may be asked to leave your keys with an attendant.
Max Vehicle Height: 6'8"
1/3
Operated by Colonial Parking
How to Park
1.
Upon arrival, show pass to attendant in exchange for exit ticket
2.
Park in any space not marked "reserved"
3.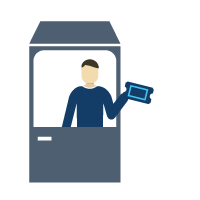 When leaving, show exit ticket and parking pass to attendant