1328 19th St. NW
Dupont Circle Garage - Lot 386
About This Facility
Fast and efficient parking garage in Dupont Circle. Just a short walk to National Geographic Museum and DC Improv. Drivers love the polite attendants and friendly service.
At peak hours, your car may be valeted, or you may be asked to leave your keys with an attendant.
1/3
Operated by Colonial Parking
How to Park
1.
Upon arrival, show pass to attendant in exchange for exit ticket
2.
Park in any space not marked "reserved"
3.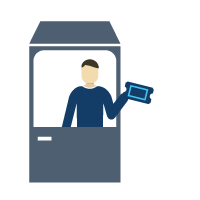 When leaving, show exit ticket and parking pass to attendant