Event Parking For
Warner Theatre
May 1, 8:00 PM EDT
Je'Caryous Johnson Presents "New Jack City" [Postponed from 02/26/2022]
1300 Pennsylvania Ave. NW
Ronald Reagan Building Garage - Keys May Be Held
About This Facility
Safe and secure indoor garage open 24/7. The Ronald Reagan building parking garage is the largest indoor garage in Washington D.C. Located near the Washington Monument, Museum of African American History, National Mall, Smithsonian Museums, White House, and other D.C. landmarks.
Maximum height clearance is 7". No In and Out Privileges.
Food court conveniently located within the building. The Ronald Reagan Building and International Trade Center is a premier venue for hosting influential conferences and events, offering a powerful forum for international trade promotion and a landmark destination for the community.
Internet connection inside the garage is very limited. We recommend printing your reservation or having a print screen ready before exiting the garage.
1/5
Operated by TCMA - Ronald Reagan Building
How to Park
1.
Scan parking pass at entry gate and park in any spot not marked "Reserved"
2.
During peak hours you maybe required to leave your keys with an attendant if your vehicle is blocking another
3.
Upon departure, scan parking pass at exit gate. (If exiting at an attended booth, please show cashier your reservation)
4.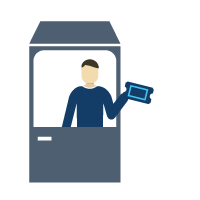 For overstay, exit through an attended booth ONLY and show your receipt to the cashier